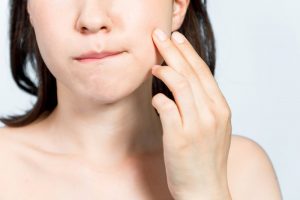 November has been designated as National TMJ Awareness Month, which is the time of the year set aside to raise awareness about a serious condition that affects the TMJ (temporomandibular joint) – which is TMJ dysfunction (TMD). Dentists also use this time to encourage those who are experiencing symptoms to schedule a visit with a local professional so they can be examined. As you read on, you'll find out the causes of TMD and what can be done to restore jaw health and functionality.
What is the TMJ?
The TMJ is a hinge-point located on each side of the jaw, adjacent to the ear. Because it is such a dynamic joint complex, it allows the jaw to open vertically, to move side-to-side, in a circle and forward-and-back. Unfortunately, the aforementioned, along with the frequent use of the TMJ, leave the joint complex more susceptible to TMD.
TMD Explained
When the TMJ is overworked, it can lead to the premature wear of the surrounding cartilage, inflammation and pain from the joint slipping from its proper position. Statistics show that over 10 million Americans suffer from this condition.
Here are some of the related symptoms:
Headaches
Pain when chewing
Swelling of the face
Unusual back or neck pain
Stiffness or inability to move the jaw
Clicking in the jaw when eating or speaking
At the first sight of any of the above conditions, you should immediately reach out to your dentist to be examined.
What are the Causes of TMD?
This condition can be brought about by increased stress, tension, bite changes and teeth grinding (bruxism). Because there becomes an improper distribution of force that is created from teeth clenching, there can also be misalignment that can lead to the TMJ becoming inflamed.
How to Treat TMD
If you are experiencing any of the above symptoms, your dentist can provide the following forms of treatment:
A custom nightguard
Instructions for daily jaw stretches
Suggestions for behavioral changes
Additionally, there are some alternative forms of therapy you can utilize like meditation, deep breathing and a new workout regimen. By taking conscious steps to improve your coping mechanisms, you can help in preventing any subconscious urgings to clench or grind your teeth that could further contribute to the dysfunction of the TMJ.
The first step to regaining the full function of your jaw in a painless manner is to reach out to your dentist in Mt. Holly to schedule a visit. With the expert care you'll receive, you'll soon be able to enjoy a normal life.
About the Author
For the past 40 years, Dr. Bill Greenberg has been a fixture in the Mt. Holly area. He earned his dental degree from Tufts University and since then, he has remained a lifelong learner. Thus, Dr. Greenberg maintains fellowship status with the Academy of General Dentistry and the Las Vegas Institute for Advanced Dental Studies. He treats TMD at Mt. Holly Family Dentistry, and he can be reached for more information through his website.