Restorative Dentistry – Mt. Holly, NJ
Bringing Back
Smiles
Our goal is always to help patients keep their smiles whole and healthy for life, but sometimes, dental decay or damage is unavoidable. When our patients do experience cavities, dental fractures, tooth loss, and other oral health concerns, we provide comprehensive dental care to restore the look, feel, and function of their smiles. If you've experienced dental damage, don't hesitate to contact the dedicated Mt. Holly Family Dentistry team to find out more or schedule an appointment today.
Why Choose Mt. Holly Family Dentistry for Restorative Dentistry?
Experienced Team
of 3 Dentists
We Accept
Dental Insurance
High-Quality Dental Materials Used
Dental Crowns
Dental crowns are restorative treatments that fit over the top of damaged or decayed teeth to restore the full form and function. The dental crown placement process is completed over the course of two appointments at our dental office.
During the initial visit, we prepare the tooth for restoration by removing a small amount of enamel and smoothing any damaged areas. Then, we capture impressions that are used to design a custom dental restoration. To protect the prepared tooth or teeth, we place a temporary crown before patients leave.
Once the final restoration is received from our dental lab, patients return to our dental office to exchange the temporary for a custom dental crown. Dental crowns are available in a variety of materials including gold, porcelain bonded to metal, and ceramic. These advanced restorations are recommended in a variety of situations including:
Severe decay or damage that is unable to be repaired with more conservative treatments such as fillings.
Cosmetic flaws, misshapen teeth, and other aesthetic concerns that cannot be corrected more conservatively.
Tooth replacement as part of a fixed bridge or dental implant-supported single tooth replacement.
Dental Bridges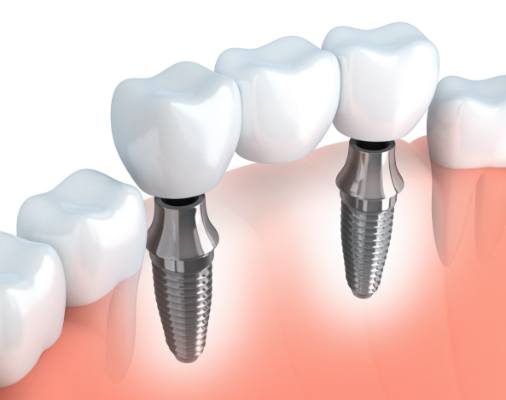 We may also use dental crowns to support a fixed bridge tooth replacement. Bridges are used to replace one to three consecutive missing teeth. These tooth replacement prosthetics are crafted by connecting three to five dental crowns in a row. The two crowns on either side of the bridge are crafted to fit over healthy teeth to support one to three replacement teeth between them. The surrounding teeth are prepared to support the crowns. This means some natural structure is removed from these teeth, and this may not be the ideal solution for every patient.
Dentures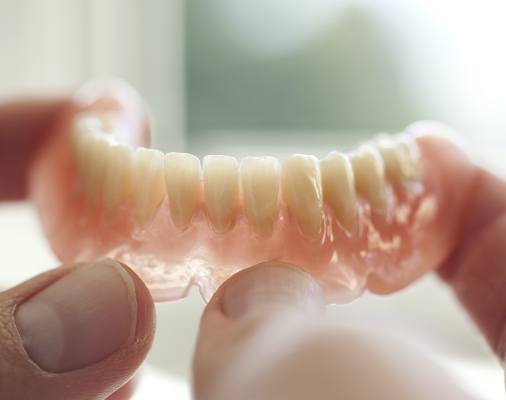 Dentures provide predictable results to restore missing teeth for patients who have lost a full arch of teeth. These prosthetics combine a row of replacement teeth with a gum-colored base that is custom crafted to fit snugly against gum tissue, creating suction that holds the denture in place. However, dentures begin to lose their shape relatively quickly, and even patients who are diligent about maintenance and caring for their denture begin to notice a looser fit over time. These patients often use denture adhesive to improve the stability of their denture. We also offer dental implant supported dentures for those patients looking for improved denture stability.
Partial Dentures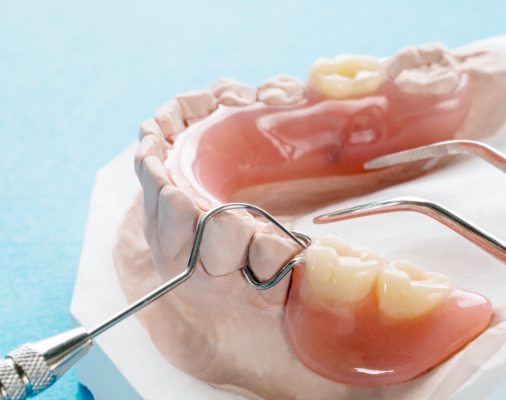 Partial dentures replace any number of missing teeth along an arch. These partials are crafted from a number of replacement teeth set into a gum-colored base that is shaped to fill the gaps in smiles. This removable prosthetic fits between existing teeth, and it is attached to remaining healthy teeth with metal clasps for support. We also provide dental implant supported partials for patients looking to improve stability of their denture and protect remaining healthy teeth.
Fountain of
Youth Dentures
This is an exciting new method of making dentures. We call it "Fountain of Youth Dentures" because the focus is on not only functional and well-fitting dentures, but also on restoring facial esthetics. When teeth are lost, the jaw bones shrink over time. That creates changes that result in lost facial volume and the typical sunken denture appearance. Fountain of Youth Dentures are made using neuromuscular techniques that help restore a more youthful appearance. Traditional dentures do a good job of replacing teeth, but Fountain of Youth Dentures focus on the effect that the denture can have on the whole face. By reversing some of the changes that happen with aging and tooth loss, many patients tell us they look 20 years younger.