Dental Implants – Mt. Holly, NJ
Seamless, Healthy
Tooth Replacement
Dentists have been replacing lost teeth for generations, but traditional options only brought back the parts of the teeth that were visible above the gumline. In contrast, dental implants are a more modern solution that replaces the entire tooth – from the root up through the crown – for a more natural look and feel. Our dentists at Mt. Holly Family Dentistry cannot recommend dental implants enough for the unmatched reliability they provide. If you're interested in a seamless, healthy tooth replacement, feel free to contact us to schedule a consultation for dental implants in Mt. Holly, NJ.
Why Choose Mt. Holly Family Dentistry for Dental Implants?
In-House Dental Implant Surgery
Friendly & Experienced
Dental Team
We Accept
Dental Insurance
What are
Dental Implants?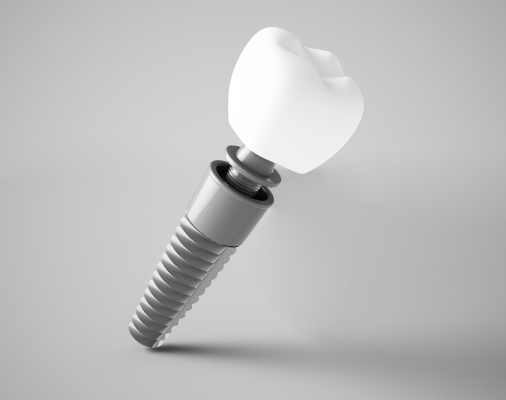 Dental implants are screw-shaped titanium posts surgically placed below the gums to replace the root structure of one or more lost teeth. After one of our partnered dental implant specialists in the area places your implants, they naturally fuse to your jawbone, essentially becoming your new tooth roots. This process, known as osseointegration, is what makes dental implant-supported tooth replacement so effective.
Once osseointegration is finished, metal attachments called abutments are placed atop your implants, allowing us to secure a personalized restoration. This crown, bridge, or denture will be customized to resemble your natural pearly whites. The end result is a solution that looks and feels so natural that you may end up forgetting you even lost your teeth in the first place!
The 4-Step Dental Implant Process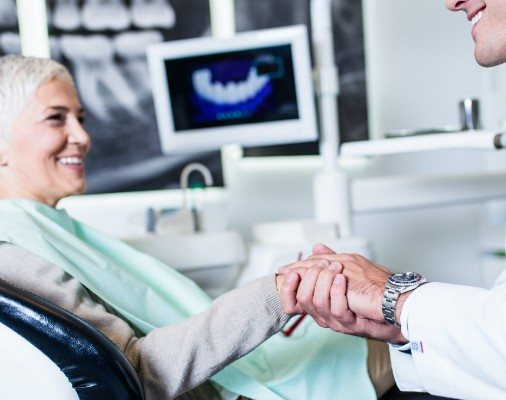 Replacing teeth from the roots up requires a more complex procedure than simply recreating the crowns of teeth, like traditional dental bridges and dentures do. As a result, the dental implant process can take many months or even a year or longer. However, they can last a lifetime if you take good care of them! Every patient's tooth replacement journey will differ slightly, but the four basic steps are the same. Below, you can take a closer look at each part of the process so you can know what to expect.
Initial Dental Implant Consultation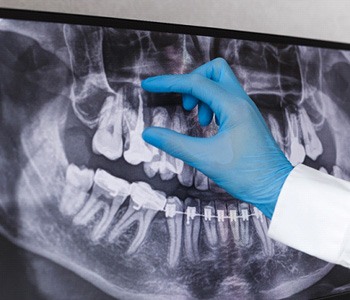 The first step on your journey towards a restored smile is a consultation with our team at Mt. Holly Family Dentistry. We'll help you determine whether dental implants are right for you and discuss your medical history, desires and needs, and any diagnostic findings. If necessary, we will incorporate preliminary procedures into your treatment plan to prepare your mouth for dental implant placement. Rest assured – we'll walk you through the process and the expected overall cost.
Dental Implant Surgery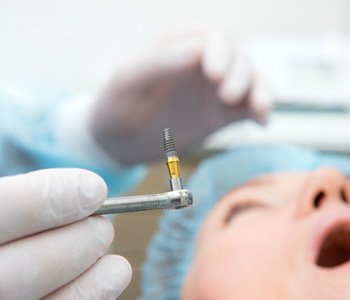 Since we place our own dental implants, you can expect to receive start-to-finish treatment in one convenient location. We'll numb your mouth with a local anesthetic and make a small incision in the gum tissue to access your jawbone. Then, we'll place the implants at precise angles and locations. After your gums are closed, protective caps will be placed over the posts to keep them safe while you heal.
Dental Implant Osseointegration & Abutment Placement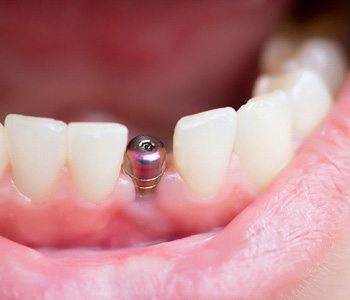 For the next three to six months, your implants will fuse with the surrounding bone tissue via a natural process called osseointegration. It's crucial because it ensures your implant has a sturdy foundation so your replacement teeth can stay firmly in place. Once this process is complete, we can attach small metal connector pieces called abutments.
Delivery of Dental Implant Restorations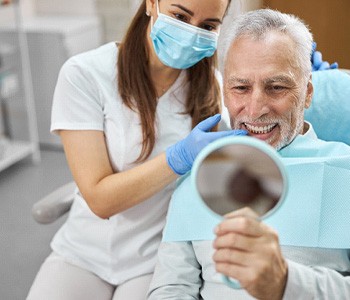 Shortly after your abutment has been placed, your custom-made restorations should be ready. You will return to our office for the placement of your new crown, bridge, or denture. We'll secure your restoration to your abutments to complete your smile. Before you leave, we'll make any final adjustments as needed to ensure your bite is comfortable and ready to be put to use!
Benefits of Dental Implants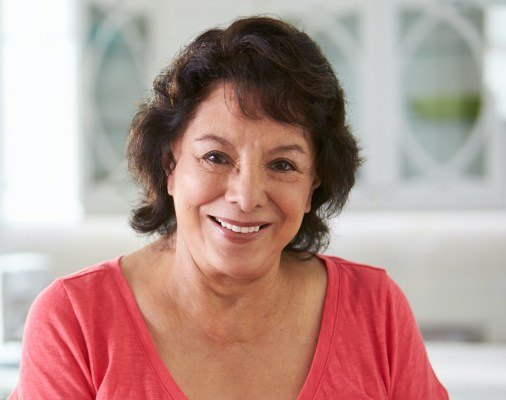 Dental implants are considered the gold standard of tooth replacement – and for good reason. They're quickly becoming one of the most popular ways to replace missing teeth, mainly because of the incredible benefits they offer. Because of their unique placement inside the jawbone, they have significant advantages you simply can't get with other options like dentures and dental bridges. To learn more about how implants can improve your overall quality of life, continue reading or give us a call today!
Day-to-Day Benefits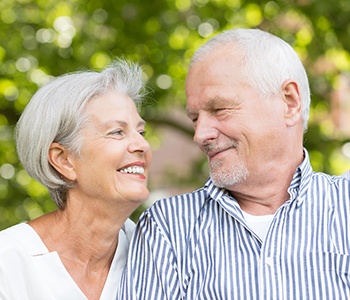 Since dental implants are surgically inserted into the jawbone, you can enjoy multiple benefits in your day-to-day life, including:
Ability to eat almost any food. This method of tooth replacement is unique because it restores the entire structure of a missing tooth, from the root up to the chewing surface. As a result, you'll have unmatched stability and durability. Your dental implants will be able to stand up to the chewing pressure of virtually any food!
Increased confidence. One of the advantages of dental implants is their ability to give you a smile that looks, feels, and acts just like your old one. Because they're so similar to natural teeth, you can show off your brand-new grin with confidence!
Lower maintenance. With dental implants, you don't have to worry about incorporating complex steps into your oral hygiene routine. All you have to do is care for them in the same you'd care for natural teeth – brushing twice a day, flossing daily, and rinsing regularly!
Health Benefits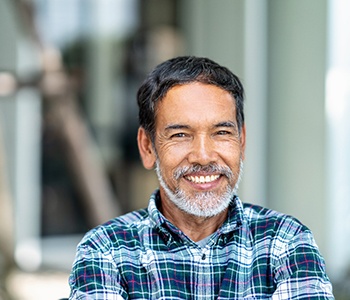 The benefits of dental implants go far beyond improving your daily quality of life. You can enjoy significant health advantages as well, such as:
Jawbone preservation. Since dental implants are placed inside the jawbone, they stimulate it to prevent the bone loss that's common after tooth loss. Additionally, they help maintain an overall youthful facial shape.
Prevent dental drift. It's common for teeth to shift after tooth loss. Luckily, implants can serve as placeholders to ensure every tooth stays exactly where it belongs.
Improved overall health. Studies show a correlation between tooth loss and an increased risk of multiple health conditions. Because dental implants are so close to natural teeth, it's safe to say that they can help lower your risk of such diseases.
Long-Term Benefits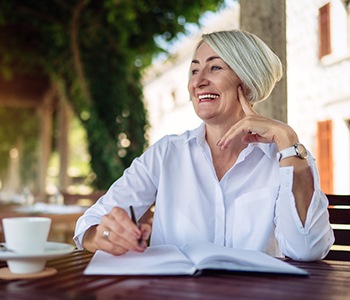 Dental implants can provide you with many long-term benefits, including:
High success rate. Dental implants have an impressive success rate of about 95 percent even 20 years after they've been placed.
Youthful appearance. Because implants stimulate the jawbone, they can prevent the sunken aged look that often accompanies tooth loss.
Long lifespan. With proper care and maintenance, your new smile can easily last decades! In some cases, it can even last a lifetime.
Who Can Dental Implants Help?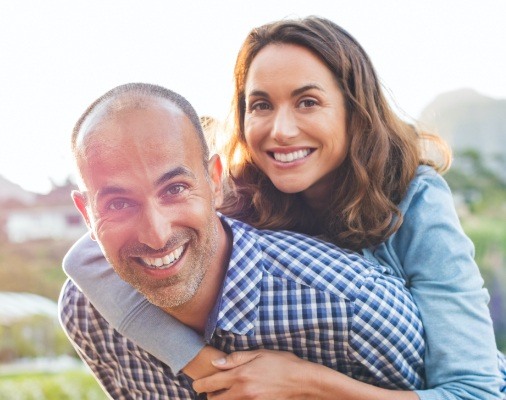 Dental implants in Mt. Holly is an incredibly versatile tooth replacement treatment that can accommodate patients missing any number of teeth, from a single gap to an entire arch. However, there are a few traits that good candidates for this procedure should possess before being able to undergo dental implant placement surgery to ensure the success of the treatment. At your initial consultation with one of our dentists, we'll walk you through the details of the procedure and help you determine whether it's a good option for your unique needs.
Who is a Good Candidate for Dental Implants?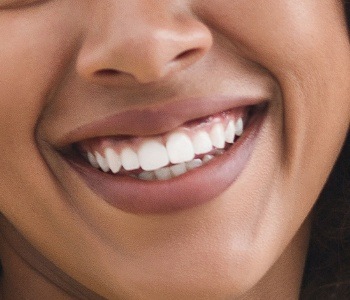 Not everybody is always a good candidate for the dental implant procedure right off the bat, but that doesn't mean that we can't help you get there! Once the implants are placed, they'll need to undergo a process called osseointegration, which is when they fuse with the jawbone to provide your restorations with strong, stable foundations to be secured to. If your gums and mouth aren't healthy, this process could fail, which would jeopardize the procedure.
At your initial consultation, we'll examine your mouth and gums to make sure that they're healthy. We may suggest preparatory procedures, such as a bone graft, sinus lift, gum disease therapy, or even a tooth extraction to minimize any risk of complications after your surgery. If you have medical conditions that affect your immune system, such as diabetes, we'll work closely with your primary care physician to ensure that it won't impact the healing and osseointegration processes. After all, we want you to be able to enjoy your new smile for decades to come!
Based on the findings of your dentist in Mt. Holly during your consultation, we'll outline a customized treatment plan for you and walk you through it, so you know exactly what to expect throughout the process.
Missing Single Tooth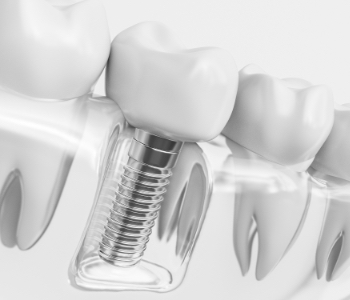 For a single missing tooth, we'll place one dental implant in the area below your gumline, restoring the root structure of that tooth. Then, we'll attach a customized dental crown to fill that gap in your smile and restore the function and appearance of your row of teeth.
Missing Multiple Teeth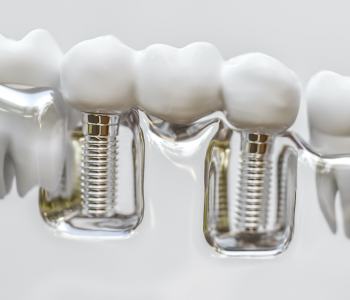 Those missing multiple consecutive teeth can benefit from an implant bridge. Instead of buffing down existing teeth, which is typical for a traditional bridge, an implant-supported solution utilizes two dental implants on either end of the gap in your smile. These implants are strong enough to hold a bridge with as many as three teeth!
Missing All of Your Teeth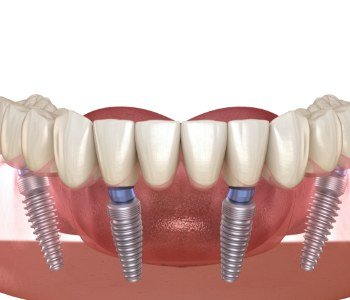 Much like an implant bridge, an implant denture can replace several teeth at a time without needing an implant for each individual tooth. For example, implant dentures use anywhere between four and six implants to replace the entire arch, ensuring that it remains stable with daily use. Restorations can be made to be either removable or fixed, depending on your preference.
Maintaining & Caring For Your Dental Implants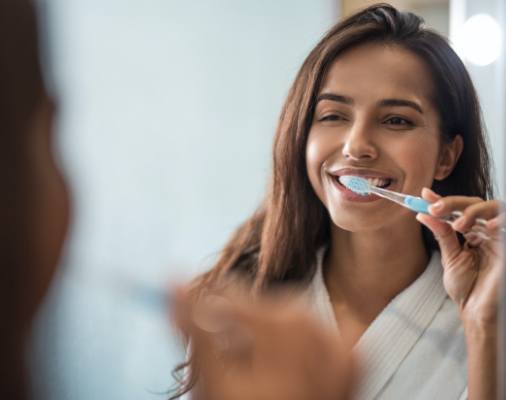 One of the main reasons why dental implants are so popular is due to their versatility. It doesn't matter if you're missing one tooth or an entire arch; dental implants are ideal for any tooth loss situation!
Making Oral Hygiene a Priority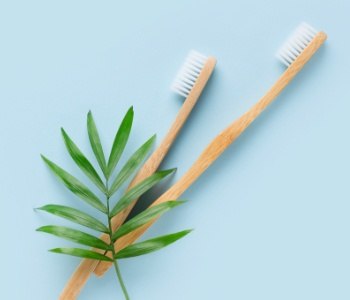 Tooth decay, gum disease, and other oral health problems can cause your implants to fail. This is why it is necessary to maintain good oral hygiene by brushing twice a day with fluoride toothpaste, flossing at least once each day, and rinsing with an ADA-approved mouthwash. This daily routine will help to remove bacteria and food particles that can turn into harmful acids that eat away at natural tooth enamel as well as plaque and tartar that can attack soft oral tissues.
Eating a Healthy Diet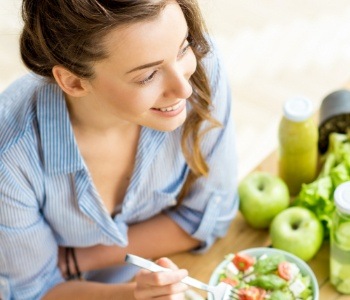 With dental implants in Mt. Holly, you are free to eat whatever foods you like, but it is important that you adopt a nutritious diet and limit your consumption of sugars and starches. Too much candy, sweets, and carbs can cause bacteria to form in the mouth and cause cavities and gum disease over time. Although your dental implants cannot decay, they can be negatively impacted should your gums become inflamed or infected. By eating more foods that contain vitamin C and calcium, you can ensure healthier oral tissues and a stronger jawbone.
Breaking Bad Habits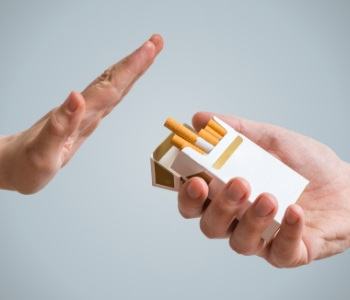 One of the fastest ways to damage your dental implants is to continue practicing bad habits. Once your prosthetics are in place, you'll want to give up smoking and/or using tobacco products, quit biting your nails, stop eating ice and chewing on inanimate objects, and never use your teeth to open packages or containers ever again. Not only can these bad habits damage your restoration, but habits like smoking can slow the healing process and make you more vulnerable to infection.
Protecting Your Dental Implants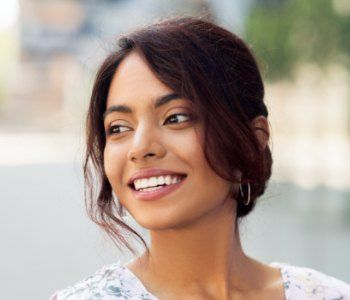 It is true that your dental implants are highly durable; however, they are not indestructible. As a result, if you play sports or suffer from bruxism at night, you'll need to speak with your implant dentist in Mt. Holly about receiving a customized mouthguard. This oral appliance will better protect your teeth and gums from potentially damaging situations. With regular wear, you will no longer need to worry about wear and tear to your tooth enamel or more complex damage that can occur on the field, track, or court.
Scheduling Regular Dental Checkups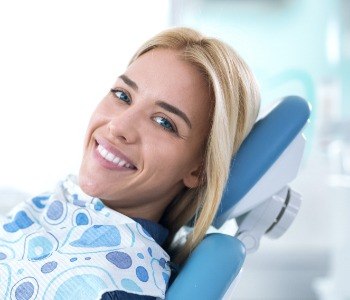 Your dentist is your friend and ally when it comes to prolonging the lifespan of your dental implants. By choosing to keep your regularly scheduled dental checkups and cleanings, we can review your prosthetics and restorations to ensure no issues are developing. Should we find anything of concern, we can quickly get to work to minimize future issues and address the problem right away. Unless otherwise noted by our team, you can expect to visit our dental office every six months.
Understanding the Cost of Dental Implants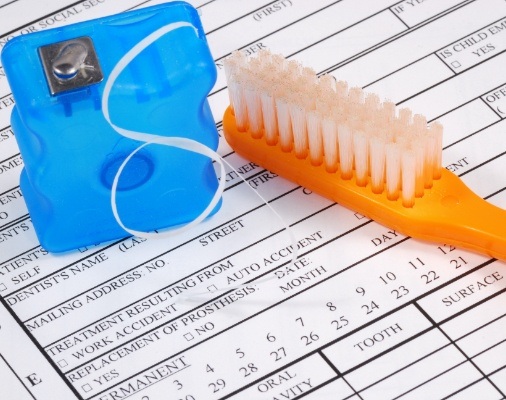 Dental implant placement consists of two stages: the placement of the implant and the placement of the abutment and restoration. Both come with their own unique costs depending on how extensive your treatment becomes. For example, a single tooth replacement with one implant is very likely to cost less than a three-unit bridge that requires two implants to place.
Regardless of the option you choose, keep in mind that implants are considered to be a long-term investment that lasts for decades. In fact, most dental implants last anywhere from 25 years to a lifetime when properly maintained.
Types of Dental Implants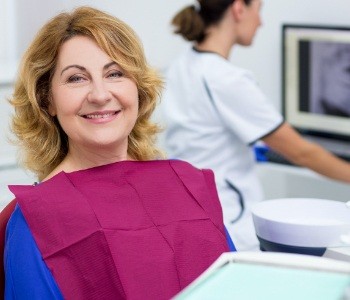 One of the most unique characteristics of the dental implant process is the flexibility it provides patients. Depending on the number of teeth you have missing, the condition of your oral health and the amount of healthy jawbone you have, Dr. Greenberg will suggest the best type of implant to fit your needs.
For example, if you only have one tooth missing, then a single dental implant will suffice. However, if you're missing a full set of teeth, then you'll need to receive several strategically placed implants that will attach to a full set of dentures. Because the treatment protocols can vary between patients, Dr. Greenberg will need to perform an assessment so that when you ask, "How much do dental implants cost?" You can get an accurate cost estimate.
What Are the Stages of Dental Implant Treatment?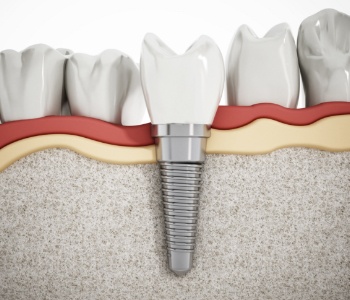 Dental implants have a 98% success rate at the 10-year mark, and that can greatly be attributed to the fact that each step of the procedure is carefully mapped out, with a cost assigned to each stage.
The procedure includes the following steps:
Examination – to determine the condition of your oral and overall health
Restorative care – any care needed to restore your oral health before the dental implant surgery takes place
Initial implant insertion – to attach the implant to the jawbone and allow it to fuse with it to provide it with stimulation and blood flow
Abutment placement – a metal connector piece that is attached to the implant after the jaw and gums heal sufficiently
Restoration placement – a porcelain crown, bridge, or denture is permanently attached to the implants
Are Dental Implants Worth the Investment?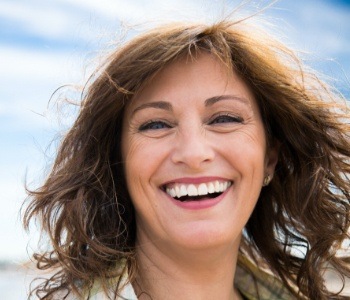 There are several factors that make the dental implant procedure a worthwhile investment. For starters, it's the only form of tooth replacement that addresses the entire tooth structure, from the root to the crown. Furthermore, it doesn't require the alteration of any of the surrounding teeth, which can help to fortify your oral health as a whole.
Then, when you consider the fact that with a new dental implant, you can regain up to 95% of your original chewing capacity, you just can't go wrong with having the titanium fixture placed. Another benefit is that with proper care, your new implant can last from 25 years to a lifetime.
Does Dental Insurance Cover Dental Implants?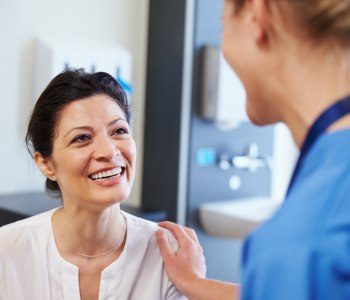 In most cases, dental insurance won't cover the cost of dental implant placement. Depending on who you're insured with and the type of plan you have, you may be able to apply your coverage to any restorative treatments needed before an implant can be placed. In situations like these, you can expect your dental insurance to cover up to 50% of the related costs, depending on the stipulations within your plan.
To make sure that we're in network with your dental insurance, feel free to contact us. After we've verified your coverage and you've been examined, we can move forward with rebuilding your smile and confidence!
Dental Implant Failure & Salvage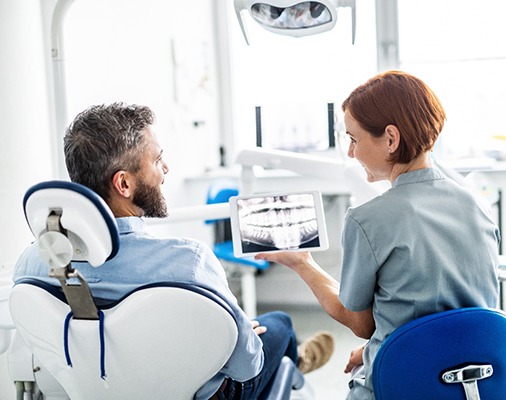 With a remarkable 95% success rate even a decade after their placement, dental implants offer outstanding results. Although uncommon, there remains a slight possibility of implant failure. If your recently enhanced smile becomes uncomfortable or you're worried about your implant's condition, don't hesitate to get in touch with us. Our team can quickly assess the situation and potentially provide a solution through dental implant salvage treatment.
Learn More About Dental Implant Failure & Salvage
Dental Implant Frequently Asked Questions
The gold standard for tooth replacement is dental implant treatment. Still, it's not a simple task to have done, so it's always good to be as informed as possible. Throughout the years, we've fielded some common questions from our patients. We've compiled a list of five of them, along with the answers, so that you can have a better idea of what to expect before undergoing dental implantation. To learn more and move forward with achieving a beautiful and functional smile, contact our Mt. Holly dental office to request a visit today!
How much do dental implants cost?
This is a common and understandable question for patients to ask. Unfortunately, there isn't a set answer, as the dental implant process is highly specialized and customized to meet each patient's needs. There are three basic components that factor into the cost: the condition of your oral health, the number of teeth you have missing and the amount of jawbone density that is present. When you visit us for an initial assessment, we can give you an accurate quote.
Are dental implants right for me?
Qualifying for dental implants is pretty straight forward. You'll need to have dental issues like gum disease, advanced tooth decay or other problems treated to prevent the premature wear of your implant. Furthermore, sufficient jawbone density is necessary for the implant to seat properly. The good news is that no matter what your age is, there is a chance for you to regain a fully functional and attractive smile.
What is the overall success rate of dental implants?
Across the board, the dental implant process has a 98% success rate. There are several components that factor into maintaining such a high standard. For starters, you'll need to practice excellent oral hygiene (includes brushing and flossing at least two times a day), avoid hard food items, and maintain regular visits to our dental office for preventive care.
Will my dental implants look natural?
Dental implants are unlike any other form of tooth replacement. Instead of resting above the gum line, they attach at the root level. This provides a degree of stability and tooth positioning that looks and feels natural. Thus, when you smile, it will be extremely hard for people to tell that you've received a dental implant.
Can I wait to have my teeth replaced?
You certainly can wait to have your missing teeth replaced. However, you should be aware of the potential consequences. When even one tooth is left missing, it can lead to the surrounding teeth shifting, eventual jawbone loss and a degree of facial collapse. Thus, the sooner you have your smile restored with dental implants, the better off you'll be.