Dentures – Mt. Holly, NJ
Customized, Comfortable
Tooth Replacement
There is a stereotype around dentures that says they are uncomfortable, unattractive, and inconvenient. Before you buy into all the negative talk, though, take a moment to consider that modern dentures are actually a great way to replace missing teeth. If they fit properly and are well-made, they can serve as an important part of your smile and your oral health. If you are ever interested in learning about how dentures might be able to benefit you, please contact us to chat about your tooth replacement options, inlcuding dentures in Mt. Holly, NJ.
Why Choose Mt. Holly Family Dentistry for Dentures?
Custom-Fitted &
Functional Dentures
Experienced & Skilled
Team of Dentists
We're Involved
in Our Community!
Types of Dentures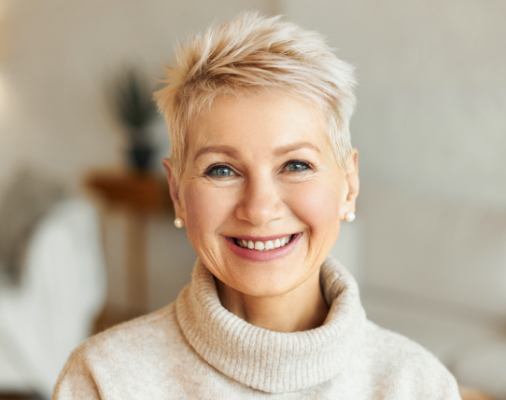 Depending on your unique oral health needs, we may suggest one of the three main types of dentures to restore your smile:
Full Dentures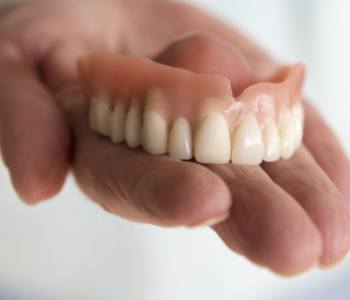 Full dentures are probably what you usually think of when your mind goes to dentures. They replace an entire arch of teeth — either the top row or the bottom row. They're made of a gum-colored base that is attached to a set of natural-looking artificial teeth. Sometimes, suction is enough to keep the dentures in place, but many patients choose to use an adhesive for extra staying power.
Partial Dentures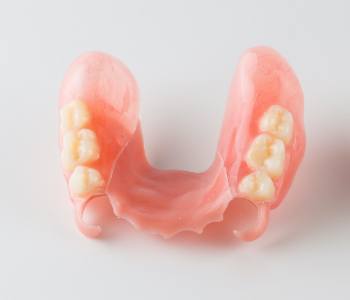 As their name implies, partial dentures are a removable prosthesis that replaces several missing teeth but not an entire arch. The missing teeth don't all have to be in a row; your dentist will be able to fill in multiple gaps with a single denture that is supported by a comfortable metal framework.
Dental Implant-Retained Dentures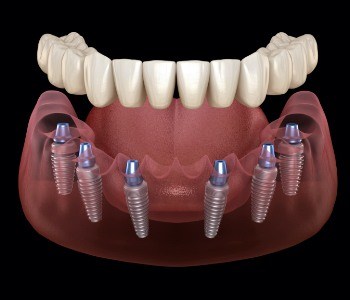 While traditional full and partial dentures offer many benefits, they do have a few drawbacks. For example, you have to replace them every few years as your jaw changes shape and affects the fit of your teeth. Many patients have found that implant-supported dentures are a better option. They're supported by small titanium posts (dental implants) that your oral surgeon places in your jaw. They help to prevent bone loss, maintain the shape of your face, and offer the strongest bite out of all the tooth replacement options. They may even last for the rest of your life!
Learn More About Implant-Retained Dentures
Am I a Candidate for Dentures?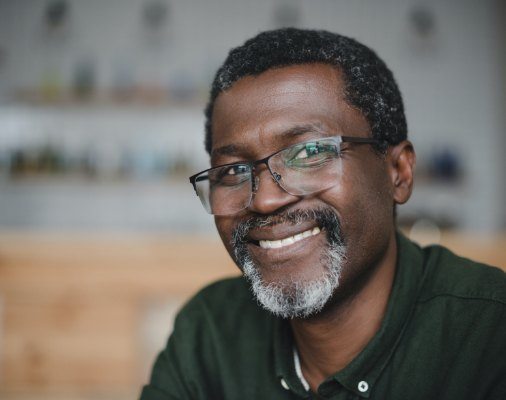 Virtually any patient who's suffering from some degree of tooth loss would make a good candidate for dentures. Full dentures would be great for someone missing all their teeth on one or both arches, while partials are ideal for those with some remaining teeth. To be a candidate for implant-retained dentures, you'll need to have a sturdy enough jawbone to support implants or be able and willing to undergo a bone graft to strengthen the jawbone.
Benefits of Dentures
Even one missing tooth can result in oral health complications, so rebuilding your smile after tooth loss is crucial. Replacing missing teeth with dentures offers multiple benefits. For one, they allow you to eat a more varied diet of chewy and crunchy foods, like vegetables, improving your overall health. You'll also be able to speak more clearly and smile proudly, boosting your confidence in both your personal and professional life.
Dentures Aftercare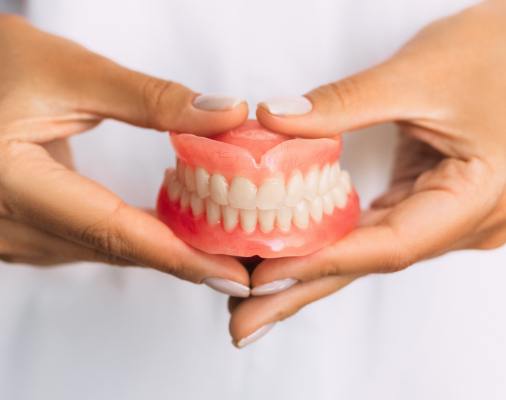 After you first receive your dentures, it can take some time to fully grow accustomed to them. It may help to cut your food into bite-sized chunks for the first few weeks and gradually eat larger bites. Chewing evenly with both sides of your mouth and using denture adhesive can prevent them from slipping while eating. To help you get used to speaking with them, practice reading aloud or even singing in the shower while wearing them.
Caring for your dentures is simple. Gently brush them regularly to remove leftover food and plaque. Soak them in water or denture cleanser overnight to keep them from drying out and losing their shape. Brush your tongue, gums, and palate every day, and rinse with mouthwash. Visit us every six months for a checkup to evaluate your oral health and determine when it's time for a reline or replacement.
Denture Frequently Asked Questions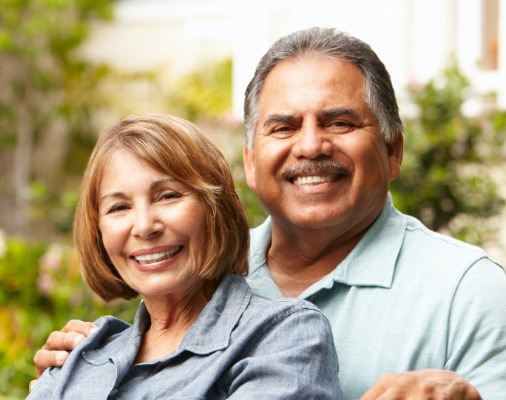 If you have missing teeth, dentures offer a customized, comfortable tooth replacement option that can dramatically improve your life. We'll be more than happy to go over all the information you need about restoring your smile during your consultation, but in the meantime, we invite you to look over a few common questions about this classic treatment.
I need dentures—where do I start?
The first step on your journey towards a complete set of pearly whites is to schedule a consultation with us. During this initial appointment, we'll first go over your goals and concerns to fully understand your ideal smile. Then, we'll review your medical history and inspect your oral health to ensure dentures are a good choice for you. After fully explaining which tooth replacement options we recommend, we'll help you choose which one is best for your unique smile and design your custom treatment plan.
Do I brush dentures like my natural teeth?
Even though your dentures can't get cavities like natural teeth, it's still essential that you keep them clean. Regularly cleaning away the particles that build up on your dentures throughout the day lowers your risk of developing problems like gum disease and oral infections. However, regular toothbrushes and toothpastes are somewhat abrasive and can easily damage your dentures. Use special denture brushes and cleaners to brush your dentures every morning, evening, and between meals.
How long will my dentures last?
The lifespan of your dentures will heavily depend on how well you care for them. However, as your mouth naturally changes shape over time, your dentures will inevitably begin to lose their close fit. Typically, they'll need to be replaced after five to seven years of use to keep your mouth healthy and comfortable. However, if you've chosen to restore your smile with implant-retained dentures, you can expect them to last much longer!
Dental implants fuse with the jawbone in order to become a permanent addition to your smile. Thanks to their unique design, you can easily expect to enjoy your newly rebuilt smile for the rest of your life with great oral hygiene!
Can I eat normally with dentures?
While traditional dentures can replace your missing teeth right away, it will take some time to adjust to your new smile. Eventually, you'll be able to comfortably and easily eat most of your favorite foods with your dentures. However, you should expect to take several weeks to get used to chewing with them. Initially, you should stick to eating soft foods that don't require much chewing as your gums adjust. You can gradually progress to tougher, crunchier foods as you feel comfortable. This process takes a different amount of time for everyone, but most patients need about a month of practice before eating normally with their dentures. Taking small bites and using a small amount of denture adhesive can help make learning a bit easier as well.
Does dental insurance cover the cost of dentures?
Since every dental insurance policy is different, there's no simple answer to this question. You can call your insurance provider and ask if your policy covers the cost of dentures, or you can bring your dental insurance paperwork with you to your consultation, and we'll be more than happy to help. Our talented team will go over the details of your plan and help you understand what is and isn't covered. We can process and file claims for most insurance providers and are in-network with many major PPO dental insurance plans. We always strive to provide our patients with the highest quality dental care at the lowest cost!