Implant Dentures – Mt. Holly, NJ
Permanent Placement for a More Beautiful Smile
According to the American College of Prosthodontics, an estimated 36 million people in the United States do not have any remaining natural teeth. This is why traditional dentures are often the most sought-after form of tooth replacement. But if you look at their shortcomings (i.e., inability to remain secured in place, food restrictions, frequent replacements), it's also easy to see why the American Dental Association (ADA) estimates more than five million dental implants are placed each year in the U.S. If you want a permanent, longer-lasting solution for your missing teeth, contact us to inquire about implant dentures in Mt. Holly today!
What Are Implant Dentures?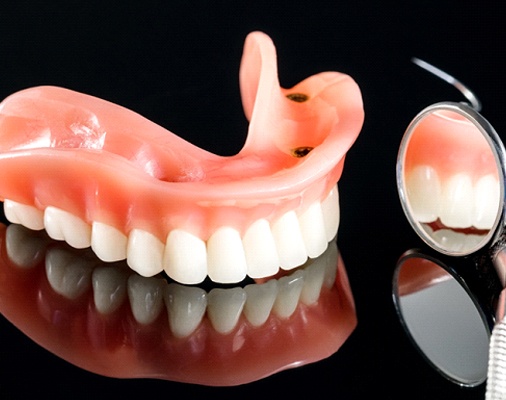 Unlike traditional dentures that only sit on top of the gums, those anchored to the jawbone, implant dentures, are permanent and cannot be removed. Consisting of titanium posts, metal abutments, and a customized denture, these prosthetics make it possible to eat the foods you love, embrace a healthier way of life, and enjoy improved confidence.
Implant dentures offer a unique experience that cannot be matched by other forms of tooth replacement. They're designed to mimic the natural tooth structure from the root to the crown, giving you the most natural look and feel possible.
Achieving implant dentures requires a consultation with your dentist. During this visit, you can expect there to be a discussion about the type of denture you prefer. You can choose between a fixed or removable one depending on the status of your oral and overall health.
Fixed/Permanent Implant Dentures
Also commonly referred to as a "hybrid prosthesis," a fixed implant denture is held into place with four or six dental implants in Mt. Holly. It is necessary that you have ample jawbone density to support this type of prosthetic, so if you lack the necessary bone, you may be required to undergo a bone grafting procedure.
Removable Implant Dentures
You may also opt for a removable prosthetic, also known as a "Snap-On Denture." Capable of being removed by yourself, you can easily take out your teeth to clean them at nighttime. Also, you do not require the same jawbone density, as only between two and five dental implants can hold it in place.
The Implant Denture Process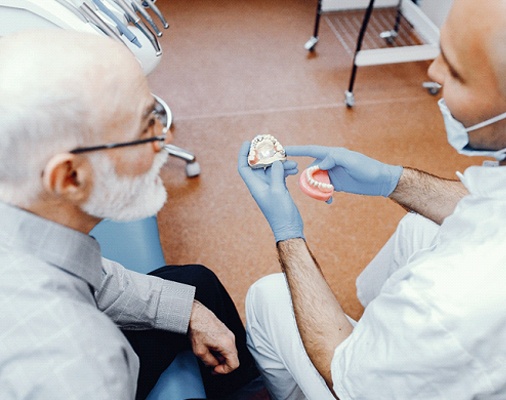 The implant denture process is quite straightforward to complete, but it does take time. Patience is necessary, as you do not want to hurry the process. Doing so will only lead to dental implant failure and additional time and money out of your pocket.
Once you meet with your implant dentist in Mt. Holly to discuss your eligibility and the type of restoration you will receive, you can expect to then undergo dental implant surgery. Offering in-house implant placement, the process is seamless, as you continue to encounter trusted professionals along the way.
Once your implant posts are surgically anchored to your jawbone, you will spend 3-6 months recovering at home and allowing osseointegration to occur. Once this is complete, you will receive your new and improved denture.
Am I a Candidate for Implant Dentures?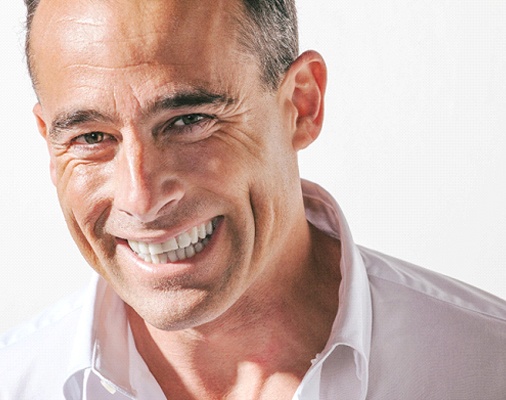 Many patients wonder if implant dentures could ever be a possibility. Oftentimes, the lack of jawbone density or fear that a smile is no longer capable of being "improved" can keep people from seeking help. However, dental implants are a viable option for almost any adult with missing teeth.
When meeting with our team, we will evaluate your oral health to determine if you need periodontal therapy or tooth extraction before moving forward. We'll also check your jawbone to find out if you need a grafting procedure. Lastly, we'll evaluate your overall health to decide if you can safely undergo minor oral surgery.
Benefits of Combining Dentures & Dental Implants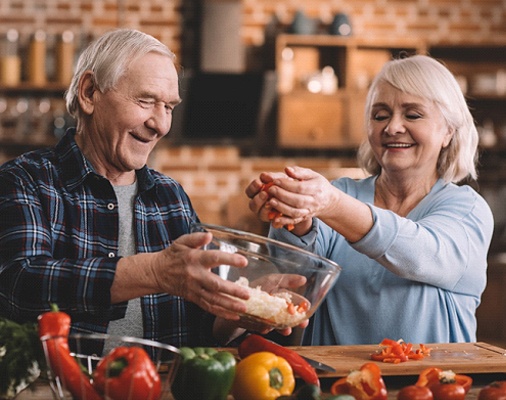 It might seem as if dentures and dental implants should be separate but by combining them, patients can experience a new level of permanent, functional, and longer-lasting tooth replacement. Some of their greatest benefits include:
Greater confidence when speaking and eating around others
A strong jawbone because of the continuous stimulation delivered to the bone while eating and chewing
A high success rate of 95% when placed by a skilled implant dentist
Lower risk of systemic issues often caused by tooth loss
No food restrictions
The ability to maintain your prosthetics without costly products (i.e., denture adhesives, denture soaker)