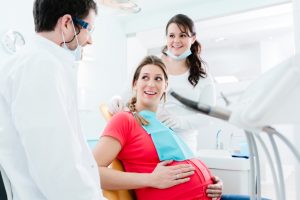 You've waited years, but finally the stick turned blue! You're pregnant and you can't wait for your little one to arrive. There's lots of preparing to do, but you're well on your way to becoming the mom you've always dreamed of being. You took a special trip to Storks N More in Burlington and got onesies, diapers, a crib, but on the way back home, you feel like you're missing something…the last time you had a dentist appointment was about 5 months ago. When you talked with the team at Mt. Holly Family Dentistry while you were trying for a baby, the dentists stressed how important dental care was during your pregnancy journey. Let's go over what the premier Mt. Holly dentist knows about dental care, you, and your baby.
Seeing the Dentist While Pregnant is Vital
Not only is seeing the staff at Mt. Holly Family Dentistry important when you're not pregnant or trying to have a baby, dental health becomes even more critical once your bundle of joy is growing inside your belly. Although old myths may make you think it's unsafe to have your dental health addressed while pregnant, this is completely bogus. In fact, AmericanPregnancy.org advises that, "Preventive dental cleanings and annual exams during pregnancy are not only safe, but are recommended." The best dentists in Mt. Holly can guide you on your way to ensure safe, effective dental treatment while your bun is baking in the oven. They'll strategically schedule appointments and services when the time is right for you and your baby. Sure, it's a no-brainer that you need to see your OB while pregnant, but it's just as vital to see the Mt. Holly Family Dentistry team when expecting.
Mom's Dental Health Affects Baby
Why is it so important to see your dentist when you have a baby on the way? It's pretty scary to think about, but preterm labor and low birth weight is actually related to poor dental health. Some scientists think the reason is because a low-grade infection (like gum disease) can trigger your body into thinking it would be safer for the baby to be outside mom's body, rather than staying inside when mom is sick.
And, speaking of gum disease, the hormonal changes during pregnancy and increased amount of blood in your body to support your baby actually soften your gum tissue, making it easier for bacteria to thrive. This can lead to increased risk of gingivitis, bleeding gums, and periodontal disease. And, if you are unlucky enough to deal with morning sickness, vomiting can cause acid erosion to teeth and increasing tooth decay. All of these conditions affect both mom and baby.
Since we've touched on many of the reasons why it's important to make your dental health a priority while pregnant, who can you trust to take care of your teeth and keep your baby safe? With over 50 years of combined experience in dentistry, Mt. Holly Family Dentistry is your choice for a premier dentist in Mt. Holly. Schedule your appointment today, Mom!