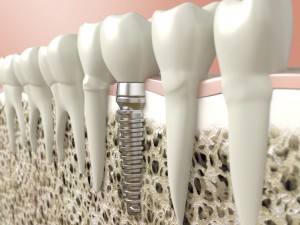 Remember when you were a child and the tooth fairy magically removed the tooth from under your pillow and left a surprise in its place? Well, those days are gone. However, if you have one or more missing teeth, there is still something magical that can replace them. Dental implants are the most lifelike tooth replacement option. For dental implants in Mt. Holly, NJ, people rely on the dentists at Mt. Holly Family Dentistry.
Teeth may be missing because of:
Severe tooth decay
Traumatic injury
Advanced gum disease
Failure of a root canal
Excessive wear and tear, possibly from teeth grinding and clenching
Congenital defects
Whatever the cause, replacing missing teeth is vitally important to avoid a host of other problems including difficulty chewing and talking, shifting teeth, and of course, the embarrassment of having an incomplete smile.
The Dental Implant Procedure
Dental implants, also called teeth implants, can be used to replace one tooth, and they can also be strategically positioned along an arch to securely hold a denture in place. In either case, one of our highly skilled dentists will surgically implant a titanium post in the jaw bone beneath the open socket of your missing tooth. As you heal over the course of three to six months, the post and surrounding bone tissue will fuse together. This fusion mimics the relationship between a tooth root and the bone, thereby creating a strong foundation. Once healed, you'll return to Mt. Holly Family Dentistry to have a custom-fitted crown attached to the post. The finished teeth implants will look, feel and function much like natural teeth.
Schedule an Appointment Today
If you have one or more missing teeth, then call Mt. Holly Family Dentistry to find out about dental implants in Mt. Holly, NJ. We also serve patients from  Westampton, Hainesport, Lumberton, Springfield, Pemberton, and the neighboring areas.