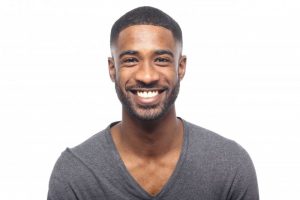 Have you ever been feeling down in the dumps and someone told you to just turn that frown upside down? It might have seemed annoying and counterproductive at the time. After all, what good would smiling do when you're not feeling happy enough to grin? As it turns out, there are numerous physical and mental health benefits to smiling, even when you don't feel like it. Let's talk about the advantages of smiling, and how you can achieve a smile you can't wait to show off.
The Benefits of Smiling
Science has shown that the physical act of smiling produces all sorts of benefits, including decreasing your stress levels, elevating your mood, boosting your immune system, and possibly even prolonging your life. How does it do this? Simple. Smiling triggers the release of chemicals in the brain, mainly serotonin and dopamine.
High levels of serotonin have been linked to reduced stress. Dopamine increases your feelings of general happiness. People with low levels of these neurotransmitters are more likely to have mental illnesses like depression. However, smiling even when you don't feel like it can fight off bad moods. That's why it helps to have a smile you can be proud of.
How to Get a Prettier Smile
You're more likely to smile, and therefore be in a better mood, if you have some pearly whites you can be proud of. Here are a few treatment options to create your personalized smile makeover:
Teeth Whitening
The business of teeth whitening products is booming. However, the vast majority of over-the-counter whitening kits don't contain bleaching gel powerful enough to eliminate dental discoloration. Luckily, your dentist offers professional teeth whitening to help your pearly whites shine. Whether you select take-home or in-office whitening, you'll have a smile you can't help but show the world.
Tooth-Colored Fillings
Filling cavities used to involve placing metal in your teeth that would eventually result in gray or black stains. These days, your dentist can apply a tooth-colored composite resin to your cavity to restore it back to its original structure and function without compromising its appearance.
Porcelain Veneers
If you have minor flaws in your teeth, like chips, gaps, or stains, it can be difficult to find reasons to smile. That's where porcelain veneers come in. These super-thin ceramic shells are placed over your problem teeth to create the appearance of a naturally perfect smile.
Dental Crowns and Bridges
Your dentist can restore teeth that are excessively cracked or worn down with a dental crown. This is a tooth-shaped cap that fits snugly over a tooth to give back its structure and appearance.
If you're missing a tooth altogether, your dentist can replace it with a dental bridge. Bridges consist of several crowns strung together, replacing the exact number of teeth you're missing and allowing you to smile with confidence once more.