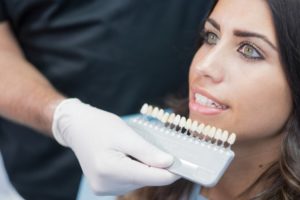 Did you know that your crooked smile could be causing your smile to deteriorate over time? There are many reasons why having an aligned smile is important besides aesthetics. Let's take a look at what straightening options we offer at Mt. Holly Family dentistry. Whether it be porcelain veneers in Lumberton or even Invisalign, we have the options you need to improve the alignment of your teeth.
Straight Teeth Keep Your Smile Strong!
Besides looking pretty, straight teeth offer a lot of benefits. Not only do straight teeth help you eat without a problem, but they also eliminate dental pain and assist you in speaking properly.
Did you know that misaligned teeth can cause headaches as well? When your teeth are in the wrong places or turned incorrectly, it can cause your joints to work in overdrive. Your temporomandibular joints (TMJ) can become damaged and cause you discomfort. TMJ disorder is notorious for pounding headaches and jaw pain. Avoid that altogether with straighter teeth.
Another side effect to crooked teeth is that you may suffer from unnecessary wear and tear. Teeth that are not properly lined up are likely to slip, slide, and grind against one another when eating and speaking. The friction caused by this at unnatural angles can lead to unnecessary wear and tear on your teeth. The same way that your teeth become worn from scraping and wearing bites, they can eventually become fractured. When you choose to invest in an orthodontic treatment, you're really saving money in the future by avoiding restorative procedures.
4 Ways to Straighten Your Smile
Invisalign
Invisalign in Lumberton was designed to help you improve your smile, straighten your teeth, and boost your oral health without embarrassing metal braces. Instead of using brackets and wires, Invisalign uses a series of smooth, comfortable, clear plastic aligners that are fit to your mouth perfectly. When used correctly, these plastic aligners will gently and subtly shift your teeth into the perfect positions.
Porcelain Veneers
If you're interested in a fast, effective solution to fixing your crooked teeth, you may be the perfect candidate for porcelain veneers. In fact, this cosmetic procedure can mask several flaws at once! These lightweight shells of dental porcelain permanently cover the front surfaces of your teeth. If you not only want to fix your overlapping teeth, but also have some other cosmetic flaws, porcelain veneers may be the right choice for you.
Six Month Smiles Braces
Six Month Smiles is a short term orthodontic system designed with adults in mind. We will send your information to a lab to create custom, tooth-colored, eco-friendly brackets and wires. Treatments typically take four to nine months, sometimes even less than that! Also, your treatment is all done discreetly, blending in with your natural teeth. This treatment is perfect for patients that want to enhance their smile without the use of other cosmetic treatments like veneers or traditional braces.
Dental Implants
If you're thinking that implants are for replacing teeth—not straightening them—you're absolutely correct! But, we can use dental implants to replace irreversibly damaged teeth—including extremely crooked or badly positioned teeth. Although their purpose isn't solely to straighten a smile, they can be a very helpful tool to ensure your new teeth stay straight.
Are you ready for a straighter smile?
When considering which orthodontic treatment may be right for you, you should consult with a dentist form our Mt. Holly Family Dentistry practice. Our dentists will examine your mouth, discuss your goals, and develop a custom treatment plan just for you. Contact us today to schedule an appointment.