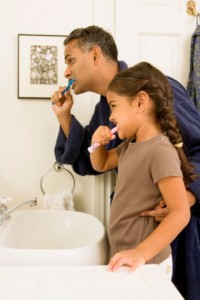 Good oral health is something we take for granted. When I'm crunching on an apple (or biting into the occasional big juicy burger), I'm not giving my teeth a second thought — and I'm even in the healthy tooth business. No, it's not until we have a problem with our mouths that we really realize how lucky we are to have strong, healthy, beautiful teeth.
We want to remind you at every opportunity how important it is to care for your teeth while they're healthy, instead of waiting until there's a problem to get serious about brushing, flossing and visiting your dentist. By that point, it may be too late. At your Mt. Holly dental office, we'll never get tired of seeing your healthy, beautiful smile — so keep the following tips in mind and enjoy good oral health for a lifetime.

1: Develop (and maintain) a good routine
Perhaps the most basic and important thing you can do to care for your mouth health is to develop — and stick to — a routine of brushing for two minutes, twice a day, flossing once a day and visiting your dentist every six months. Too many adults will pick and choose from these options, skipping the floss or only visiting the dentist once a year. These are mistakes that are easy to avoid — so start now.
2: Watch what you eat
What we eat has a major influence on our oral health. Coffee makes your smile look dingy and too many sugary snacks throughout the day make your teeth highly vulnerable to bacteria and decay. To keep your teeth as healthy as possible, get in the habit of rinsing your mouth out after you eat sugar or drink coffee and other dark colored beverages. And try to limit snacking throughout the day to fresh fruits and vegetables or whole grain options. In general, if something is healthy for your body, it's also healthy for your mouth.
3: Consult your dentist
At our Mt. Holly dental office, we're committed to giving you all the information you need to maintain a healthy, strong mouth. Your six month dental checkups aren't just a good opportunity for us to check for cavities and other problems — these appointments are also your chance to ask any questions you may have in regards to your oral health. Maybe you need to brush up on proper brushing techniques, or perhaps you want to know if porcelain veneers are right for you. We believe our commitment to patient education sets us apart from the rest.
Schedule Your Checkup Today
Your oral health is closely connected to your overall wellbeing, and that's why we're reminding you not to take any chances with either. If it's been more than six months since your last checkup, don't wait to schedule your appointment at Mt. Holly Family Dentistry today. We love to see you with a healthy, beautiful smile!