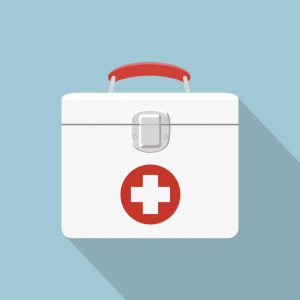 We all try our best to take care of our teeth. After all, they're the only ones we have. However, despite our best efforts, sometimes the unexpected happens. You lose a filling–or worse, a tooth. Please contact your emergency dentist in Lumberton at Mt. Holly Family Dentistry right away if you suffer severe pain, a blow to the mouth or other problem. You'll receive first aid advice and quick and accurate treatment for your pressing oral health issue.
What is Emergency Dentistry?
The practice of dentistry is more than professional cleanings, fillings and crowns. Sometimes sudden situations require prompt action and counsel. Preserving natural tooth structure and restoring patient comfort and oral function are fundamentals of emergency dentistry.
First and foremost, you must protect your oral health with twice daily brushing and once a day flossing. Semi-annual exams and cleanings with Drs. Greenberg, Govitrikar and Cygler are necessary preventive dental services which remove toxic plaque and tartar and spot small problems before they get out of control.
However, if the unavoidable happens, contact your Lumberton dentist. He or she will advise you on what to do to stabilize your condition and get you into the office quickly if necessary.
How to Address Dental Emergencies
Here are helpful tips to prepare you in case of an urgent dental problem.
Your tooth was knocked out. Rinse dirt and other debris off the tooth with plain water, leaving any attached soft tissue in place. Put the tooth in the socket if possible, and hold it there while you go to Mt. Holly Family Dentistry.The American Association of Endodontists says the sooner that tooth is treated, the better the chances are that it will survive. If you cannot replace the tooth, keep it moist by carrying it in a plastic bag containing milk, water or even some of your own saliva.
You have a severe toothache. You may have an infection related to a deep cavity. The dentist will see you for X-rays and an examination to determine which treatment is best.  In the meantime, apply ice to your jaw, and take an over the counter pain reliever.
You chipped a tooth. Save the pieces, and ice the area to reduce swelling. Call the office for advice and an urgent care appointment. Often, chips and fractures may be restored with composite resin bonding, porcelain veneers or crowns. Root canal therapy may repair very serious damage.
You lost a crown. Try replacing it with a bit of toothpaste, denture adhesive or orthodontic wax. If you cannot, put it in a plastic bag, and bring it with you to Mt. Holly Family Dentistry.
You were struck in the jaw and cannot close your mouth. Your jaw could be broken or dislocated. Get to a hospital emergency room right away. The same applies to a severe oral laceration which does not stop bleeding after 15 minutes of direct pressure on the wound.
Call Us
Nothing is more important than the health and well-being of our patients. If you very concerned about the health of your tooth, contact Mt. Holly Family Dentistry immediately. We will partner with you in quick, effective action to preserve your oral health.