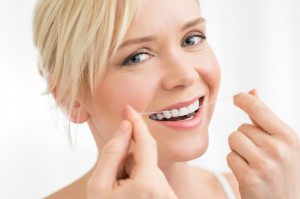 If you've ever experienced sensitivity to hot or cold foods and beverages then you understand what it feels like to have a cavity. Bacteria and tooth decay will eventually destroy your enamel and need to be removed, leaving you with a hole, or cavity that your dentist will need to fill for you. The good news is that there are many things you can do to help prevent cavities from happening in the first place. Your Mt. Holly dentist has some tips for you.
Brush and Floss Daily
Brushing and flossing your teeth at least twice a day helps to remove bacteria and plaque build up, which is what causes cavities. If you can brush after every meal, that's even better. Did you know that your brushing technique is just as important as the frequency of your brushing? Your dental hygienist can offer tips and tricks to help you ensure you're brushing properly.
Regular Dental Cleanings
Visiting your dentist on a regular basis is the best way to prevent cavities. The professional cleaning will help to remove any excess plaque or tartar build up that you may miss during your normal brushing routine. If your dentist feels that you're at a high risk for cavities, they may recommend a fluoride rinse to help control the bacteria in your mouth.
At your biannual check ups, your dentist will be able to visually examine your teeth and get a more comprehensive look at your teeth through x-rays. They will be able to spot any problem areas early on, and that will ensure you get the least invasive treatment.
Dental Sealants
A dental sealant is a thin plastic coating that fills in the grooves of your back teeth in order to protect the chewing surface from decay. Sealants are typically recommended for children, however they do work for adults as well. Your dentist will check your sealants at your regular check ups to ensure that they're intact.
Good Nutrition
We all understand that eating sugar is not healthy for our teeth, did you know however, that healthy foods such as fruits and vegetables can actually help neutralize the acids in your mouth, which helps prevent tooth decay? Fruits and vegetables also increase your saliva flow, which helps to wash away food debris.
At Mt. Holly Family Dentistry, our team of doctors focuses on prevention, helping you keep your teeth healthy, and helping you maintain optimum oral health. We focus on being your partner and mentor in maintaining oral health and we enjoy building long-term relationships with our patients. Contact our office today to schedule your next recare appointment and learn more about how we're different.