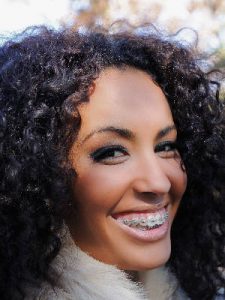 Are you tired of your crooked smile, but have been reluctant to explore solutions? Mt. Holly Family Dentistry has a great alternative to traditional metal wire and bracket braces. It's called Six Month Smiles–a practically invisible way for to move teeth into better positions without the hassle of lengthy treatments and ugly appliances.
Traditional braces aren't for everyone
Think about it. Haven't you always been deterred from orthodontic correction with metal braces? They're hard to clean, restrict your diet, require complex and uncomfortable adjustments and are just plain embarrassing–especially if you are an adult in a professional position.
While metal wire and bracket braces certainly have their place to correct severe jaw and tooth alignment problems, they can be overkill for mildly gapped and crowded teeth–particularly when the teeth are just in the "smile zone" at the front of the mouth. If your bite is generally well-aligned, the 2 years or more with expensive metal braces may not be for you.
Your Mt. Holly dentist knows braces
Drs. Greenberg, Ko-Kim, Cygler and Govitrikar pursue excellence in every aspect of their Mt. Holly dental practice, and that includes orthodontics. While they offer traditional braces and innovative Invisalign clear aligners, they understand that some people need just mild correction to achieve smiles they just love.
So, the dentists offer Six Month Smiles. Less costly than other orthodontic devices, Six Month Smiles produce amazing results in just 4 to 9 months, with 6 months being average. Six Month Smiles patients testify that they are astonished at the beautiful results in so short a time.
The Six Month Smiles treatment process
Just as with traditional braces, your Mt. Holly dentist evaluates the patient with oral examination, digital x-rays and other imaging. He or she also takes impressions of the mouth. These impressions, plus a detailed treatment plan, go to a special Six Month Smiles lab where the individualized braces are constructed.
At the next dental visit at Mt. Holly Family Dentistry, the clear Lucid-Lok brackets and memory wires are cemented in place. Every 4 weeks, the patient returns to Mt. Holly Family Dentistry for progress checks and quick, comfortable adjustments. In about half a year, the individual's smile is straightened with predictable, amazing results.
Could you be a candidate?
If you are 16 years of age or older and have good basic oral health, you could qualify for these innovative braces from Mt. Holly Family Dentistry. The only way to know for sure is to arrange a personal orthodontic consultation.
Contact the office team at Mt. Holly Family Dentistry today to find out more. Your straight, dazzling smile could be just a phone call and 6 short months away!