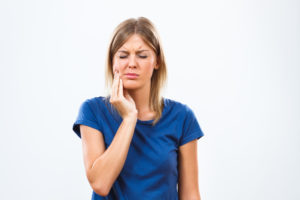 Nothing beats a sunny New Jersey day! You know what makes it even better? Enjoying your favorite ice cream, which you plan to do. Things take a turn for the worst however, when your tooth begins to twinge every time you take a bite. That twinge gradually progresses to a constant ache, which has you awake for most of the night. It's time to contact your Mt. Holly dentist, and here's why.
Sensitivity = Infection
When you experience sensitivity in your tooth to hot or cold foods or beverages this is often an indicator of a fracture or decay in your tooth. These issues can quickly progress into a dental infection, which is what causes the constant ache in your tooth. It's important to note that a dental infection won't go away without treatment, so please don't wait to contact Mt. Holly Family Dentistry.
If left untreated, a dental infection could potentially travel to other critical areas of your body including your brain. Dental infections can also lead to tooth loss if you don't act quickly in treating them.
Treating Your Issue
Being proactive about your oral health is always the best policy because preventative care gives you the opportunity to treat dental issues with less invasive treatment procedures. For example, when you first begin to feel sensitivity in your tooth, if you are proactive about getting the treatment you need, a dental filling can often remove the decay and prevent an infection from starting.
If you do suffer from a dental infection, root canal therapy can alleviate your pain and preserve your tooth in many cases. Our doctors will remove the infected tissue within your tooth from an access hole in the top. Once the infection is cleaned out, we'll seal your tooth with a temporary filling and allow it time to heal. After your tooth healed you'll return to our office to have your tooth restored with a permanent filling or dental crown.
Contact Mt. Holly Family Dentistry
At Mt. Holly Family Dentistry, our doctors understand how important it is to treat dental infections in an effective and timely manner. We make every effort to see our emergency patients as soon as possible and we even offer extended evening hours to accommodate your needs. If you begin to feel sensitivity, or dental pain we encourage you to call our office right away.