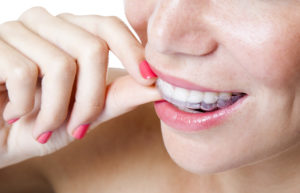 The American Academy of Cosmetic Dentistry says that people notice someone's smile before any other physical feature. What does your smile say to the world around you? If you're dissatisfied with your crooked teeth, consider Invisalign clear aligners from your Lumberton dentist at Mt. Holly Dentistry.
What is Invisalign in Lumberton?
Adults and older teens with mild to moderate dental alignment and bite problems may qualify for Invisalign clear acrylic aligners, orthodontic appliances which resemble professional teeth whitening trays or customized athletic mouth guards. Dr. Greenberg or one of his professional colleagues at Mt. Holly Family Dentistry evaluates the patient through careful oral examination, digital X-rays, photos and three-dimensional imaging. This process gives the dentist a wealth of information to determine how to proceed with treatment.
Typical Invisalign patients may have:
Gapped teeth
Overcrowding
Overjet (protruding front teeth)
Underbite
Crossbite
Open bite
Tooth rotation
Tooth tipping
In treating these problems, Invisalign avoids the metal brackets and titanium archwires used with traditional braces. Instead, Invisalign employs 18 to 30 pairs of BPA-free acrylic aligners that fit over top and bottom teeth. Gradually and gently, the smooth aligners move teeth into healthier and more attractive positions. Only certain teeth move with each aligner pair according to the dentist's  instructions. Unlike bracket and wire systems, Invisalign is comfortable and does not irritate or abrade soft oral tissues.
What are the Benefits of Invisalign?
Invisalign clear aligners craft a new smile in as little as nine to 18 months, a much shorter time than traditional orthodontics. While not appropriate for complex cases, Invisalign helps many teens and adults without the obvious look and complex hygiene routines of metal or ceramic braces. Additionally, Invisalign does not restrict the patient's diet. He or she can continue to enjoy many healthy food choices.
Regarding oral hygiene, Invisalign patients take out their aligners for brushing, flossing, and eating. And, while these custom-made appliances are almost invisible, patients can choose to remove them for special occasions such as weddings and professional presentations.
Also, individuals spend less time at the dentist's office with Invisalign. They come to Mt. Holly Family Dentistry every four to six weeks for quick progress checks and to receive the next aligner pairs in the treatment plan.
Usually, patients wear aligners 20 to 22 hours a day. At the end of treatment, they switch to wearing retainers daily. Retainers ensure teeth do not drift back into their previous positions. Invisalign recommends using custom-fabricated Vivera retainers.
Tired of Your Crooked Smile? Change It!
Millions of people have changed their smiles with Invisalign. Would you like to be one of them?
Contact Mt. Holly Family Dentistry to arrange an Invisalign analysis. You could have a great new smile quickly and comfortably, and no one will even notice the process.