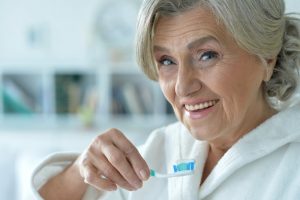 Are you wondering "How long do dental implants last?" With the proper preventive practices in place and when you make sure you're a good candidate for the procedure, you'll be able to enjoy them for potentially a lifetime. This modern restorative solution utilizes the latest and greatest that dentistry has to offer and boasts a 95 percent success rate. That being said, it's still important to take steps to avoid implant failure. Here are four ways you can ensure that you will be able to enjoy your dental investment for decades to come.
Stay On Top of Your Oral Hygiene Routine
Just like your natural teeth, your implants need to be routinely cared for to prevent oral health problems from cropping up, and to make sure they don't fail. Just like with your teeth, good oral hygiene is an absolute must to keep your restorations healthy and strong. The best routine includes brushing twice each day for two minutes and flossing daily. If you have trouble maneuvering dental floss between your new pearly whites, try using floss picks instead.
Another great way to prevent bacteria from accumulating and infection from spreading is to rinse daily with an antibacterial mouthwash. When bacteria release toxins in your mouth and cause inflammation and bleeding, it can lead to implant failure.
Stop Tobacco Use
Several studies have shown that tobacco use like smoking can slow down the healing process of your implant surgery and cause them to not properly integrate with your jaw. Smoking dries out your mouth and oral tissues, hindering your ability to form blood clots. To make sure your new replacement teeth stay healthy and bright, the best answer is to quit smoking or chewing tobacco. This will also minimize the buildup of harmful oral bacteria.
Treat Bad Oral Habits Like Teeth Grinding
Many people may not even notice that they have a bad oral habit, but they're more common than you may think. One of the most damaging is grinding and clenching your teeth at night. If you wake up and your jaw is sore or hurts, it could be due to bruxism. When you're gnashing your dental implants together, the connector pieces that are holding your restoration in place can break or become loose. Not only can the force cause them to become damaged, but they can also lead to their failure. The good news is that your dentist can easily reduce the damage by making you a custom-crafted nightguard.
Seek Help Immediately if You Notice Signs
Knowing what signs to keep an eye out for at home can increase your chances of saving your implants. The sooner you visit your dentist, the earlier they can treat the issues, preventing long-term damage and failure. Some signs of complications include:
Swollen, inflamed, bleeding gums.
Discomfort and difficulty chewing.
Receding gums.
Loose replacement teeth.
Severe pain.
If you notice any of these symptoms, don't hesitate to contact your implant dentist right away. The best way to prevent issues from cropping up in the future is to schedule professional checkups and cleanings every six months. That way, you can enjoy your natural-looking and feeling teeth for several decades after you get them.
About the Practice
At Mt. Holly Family Dentistry, we offer our patients the expertise and care of three highly-experienced dentists. Our team focuses on staying up-to-date with the latest technology and techniques the dental world has to offer, which is why we offer dental implants as a restorative solution. With painless numbing and all digital X-rays, we're able to make sure our patients are comfortable and our work is precise and accurate. For questions or to schedule a consultation for implants, visit our website or call 609-267-3230.