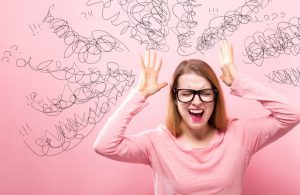 Stress can do strange things to your body, like cause headaches, stomach problems, insomnia, and the list goes on and on. Did you know that it can also have negative effects on your oral health? Keep reading to learn about the different ways stress can cause oral issues and how you can avoid and treat them.
What Oral Issues Can Stress Trigger?
Studies confirmed that stress often interferes with oral hygiene. Due to the ways that many people deal with stress, such as drinking, tobacco usage, or eating unhealthy foods, the health of the teeth and gums can be put at risk. Here are some other oral problems that anxiety and tension can cause:
Mouth Sores
There are different types of mouth sores. Some are caused by non-fatal viruses in the body, and others can happen due to trauma to the soft tissues of the mouth or eating highly salty or acidic foods. When you are under a lot of stress, your body's immune system will often be weaker, leaving you prone to breakouts of cold sores around the outside of your lips. Drinking alcohol, which often has a high acid content, and eating an excess of salty snacks to relieve stress can cause ulcers inside of your mouth or on your gums.
Burning Mouth Syndrome
This oral symptom of stress is not as common as some others, but it can still be very miserable to deal with. Just like its name suggests, it causes the sufferer to feel a severe tingling or burning sensation on their tongue or on the insides of their cheeks. Scientific studies have directly linked psychological stress to this condition, so while it may not be the only cause, it can definitely be a trigger.
TMJ Disorder and Wearing Down of Tooth Enamel
Everyone handles stress differently, but one very common symptom is the clenching of the jaw or the grinding of one's teeth. Perhaps you've noticed yourself doing it when you feel that you're under mental pressure. Over time these practices can lead to the wearing down of the cartilage in the jaw joints, which can cause severe chronic pain or limited mobility of the jaw. Grinding can weaken the enamel on your teeth, which will make them more susceptible to breakage and decay.
Tips for De-Stressing
In order to keep your teeth and your body healthy, it's important to limit the number of unhealthy stressors in your life. While many of the things that cause anxiety are probably out of your control, there are things you can do to help yourself better cope:
Seek therapy to help change your outlook on life.
Eat a balanced diet to keep your body strong and healthy.
Make time to exercise on a regular basis to increase endorphins, which relieve stress and pain.
Get plenty of rest so that you can think and function clearly.
Schedule time each day to meditate or be silent to calm your mind.
Stress may be an unfortunate part of life, but you don't have to let it affect your oral or overall health. Make sure you prioritize your psychological well-being as much as your work and other responsibilities. Ask your dentist about other easy ways you can take care of your smile!
About the Author
When it comes to dental care, you deserve the most compassionate and attentive treatment. That's just what you'll receive from the team of doctors at Mt. Holly Family Dentistry. They are passionate about building long-lasting relationships with their patients and educating them on how to care for their smiles. They bring years of experience and training to the table, and they can't wait to provide you with the highest level of service. You can request a consultation online or give us a call at (609) 267-3230.