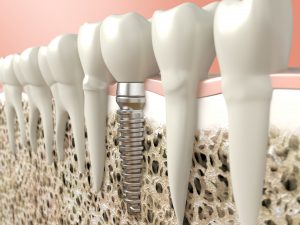 Missing teeth can be a major source of embarrassment and have a negative effect on a person's oral and overall health. That is why more than 5 million dental implants are placed each year in the U.S., according to the American Dental Association. A reliable and effective tooth replacement solution, dental implants can – in rare cases – become loose. It is important to recognize the signs of a loose implant so you can know when to seek professional help. Take a moment to read the information below so you know when to pick up the phone and call a dentist in Mt. Holly.

Why Do Some Dental Implants Become Loose?
A dental implant relies on a natural process called osseointegration, in which a small titanium implant fuses with the jaw in the bone, to provide outstanding support for a new artificial tooth. While dental implants have a success rate of 98%, on rare occasions problems can arise. The most common reasons that a dental implant may become loose include:
Loose Dental Crown – Typically not a serious problem, a loose artificial replacement tooth requires a trip to the dentist for tightening or replacement.
Bone Loss – Bone loss around the dental implant areas could be a sign of a failed implant or unsuccessful osseointegration.
Peri-implantitis – A common type of gum disease. If the disease is not detected and treated in the early stages, it can worsen and eventually require that the implant be removed.
Signs of a Loose Implant
If left untreated, loose dental implants can have drastic negative impacts on your oral and overall health. So, how can you know if your dental implant is too loose? For starters, dental implants should never move inside your mouth or fall out.
Not all signs of a loose implant are so apparent, however. Less obvious indicators of a loose implant include:
Pain near the implant
Visible bone loss
Bleeding
Discoloration around the area
If you experience any of these symptoms, you should not hesitate to contact a local dentist.
How to Treat a Loose Implant
The best treatment option for a loose implant will depend on your unique situation and should be made in consultation with your dentist.
When you visit your dentist, he or she will first remove the crown and then clean and inspect the area. If the dental crown was loose, the problem can likely be solved by tightening the parts back together. However, if the implant is infected or osseointegration has failed, your dentist may decide that removing the implant and replacing it later is the best option.
Remember, dental implants remain a reliable, effective way to rejuvenate your smile and boost your confidence. Now you have the information necessary to take action in the unlikely scenario that your implant becomes loose.
About the Author
Dr. Bill Greenberg has provided outstanding dental care to his hometown community for over 40 years. A proud Tufts University graduate, he has taken continuing education classes at the prestigious Las Vegas Institute for Advanced Dental Studies to keep up on the latest advances in dental medicine and technology. Patients interested in learning more about dental implants can visit the Mt. Holly Family Dentistry website or call Dr. Greenberg at 609-267-3230.