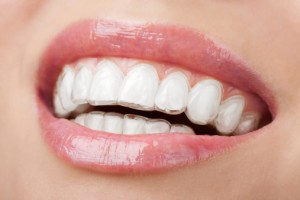 Could you use a confidence boost? This fall, don't waste your time with crash diets or drugstore hair dye. If crooked teeth are getting in the way of a confident, beautiful smile, you need a little professional help — and your friends at Mt. Holly Family Dentistry have an excellent solution for straight teeth using the Invisalign system.
It may surprise you to know that more adults are choosing braces than ever before. When I say "braces," though, it's probably not what you're thinking — not the kind that gave you nightmares in high school. Today's adult braces are clear, removable trays that straighten teeth faster than traditional metal braces. We've been giving adults the straight smiles they dream about for years using Invisalign — read on to learn more about the process, and if it's right for you.

 Invisalign: How it Works
The Invisalign system works using invisible, removable trays to quickly reposition your crooked, crowded or gapped teeth. After taking a series of x-rays and dental impressions, your dentist will create a treatment plan especially for you. You'll receive a series of trays designed to fit your unique mouth at different stages of the treatment process. Every two weeks, you'll switch to a new tray. You'll also have an appointment with your dentist every six weeks or so, to make sure your teeth are progressing as they should.
 Invisalign: Advantages
The advantages of invisible braces are many. Patients who have used it as a way to get straight teeth continue to confirm what we already know — Invisalign is a comfortable, fast way to straighter teeth without the hassle of metal braces. A little more about all the advantages Invisalign offers:
Comfort: because Invisalign doesn't use metal braces or brackets, there's no need to worry about broken wires rubbing a sore in your delicate cheeks or gums.
Speed: The Invisalign system is designed to be faster than traditional braces, and usually takes only about 12 months.
Ease of use: Because the Invisalign trays are removable, you don't have to worry about learning any new maintenance procedures. As long as you're wearing the trays for 20 to 22 hours, you can easily remove them for regular brushing and eating.
Looks: Because Invisalign is invisible, there's no need to worry about feeling embarrassed by metal braces — many patients wear Invisalign without colleagues or peers ever knowing.
 Invisalign Is Right For You
If you're embarrassed by your crooked, crowded or gapped teeth and are looking for a convenient way to straighter teeth, Invisalign your best option. Schedule an appointment to find out if you're a good candidate for the invisible braces solution. If you are, we can begin discussing your treatment plan within the very same visit. Don't wait to be on your way to straighter teeth — call today.