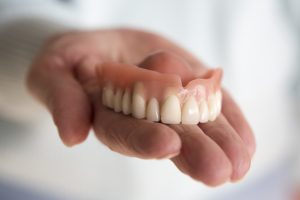 Having your missing teeth restored with dentures is a big step — and it will take some getting used to at first. Most people have an adjustment period of a few weeks or more. To speed through this time and feel completely comfortable with your dentures, keep the following 3 steps in mind. Do so and you'll be eating, speaking, and smiling with full confidence in no time!
#1: Wear Them as Directed
Removable dentures should be worn all the time that you are awake except when you are cleaning them (more on that in step #4). While your gums may be a little sore while you get used to the new prosthetic, it won't help in the long run to take them out for long periods during the day. The best thing to do is to push through and keep wearing your new denture. You'll be glad you persisted soon enough!  
#2: Read to Yourself
You may have trouble getting used to speaking with the new teeth right at first. Many people experience excessive saliva, which is the body's natural reaction to having a foreign object in the mouth. That will subside, too — and you can help yourself adjust to speaking clearly with your new denture by reading out loud to yourself. Just make sure no one can hear you!
#3: Take Small Bites
One of the great things about properly-fitting dentures is that they restore your ability to eat what you like, when you like. However, it may feel strange to chew with your new teeth in the weeks after you first get them. To help yourself transition to a balanced, nutritious diet with dentures, take small bites and chew slowly. As instructed in step 1, resist the urge to remove your dentures to eat!
#4: Clean Them Properly
Your dentist will talk you through proper cleaning techniques when you go home with your new denture. Make sure you are taking extra care to clean them after each meal and before you to go sleep at night. Soak your dentures in a special denture solution while you sleep to keep them bacteria-free and fresh. This is important for keeping any remaining teeth healthy and preventing other oral health  hazards from occuring.
Follow these 4 steps and in no time you should be living life to its fullest thanks to the help of dentures. If, however, you still can't seem to feel comfortable after several weeks, don't hesitate to get in touch with your dentist. Several adjustments may be required to achieve the proper fit with a full or partial denture.
Meet the Practice
Mt. Holly Family Dentistry offers comprehensive dental care from the comfort of a state-of-the-art dental practice. Their services range from 6-month checkups and cleanings to high-quality, natural-looking dentures. To learn more about these general, restorative, and cosmetic treatments or to schedule an appointment with your dentist in Westampton, you are invited to contact the office at 609-267-3230.