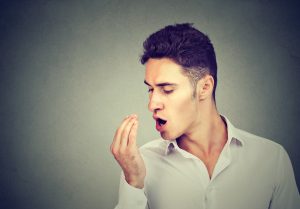 Do you feel like you are constantly battling bad breath? We all experience less-than-fresh breath right when we wake up or after eating something garlicky, but when the odor doesn't go away or comes back soon after brushing, you need to seek a solution. Your dentist in Westampton provides 4 tips for combating bad breath — for the sake of you and everyone around you — below.
#1: Brush and Floss
This may seem like a no-brainer, but often, bad breath is the result of poor oral hygiene. Teeth should be brushed for two minutes, at least twice a day, and they should be flossed once daily. If you are falling behind on these habits, you are allowing bacteria and food particles to linger in tight spaces — not only increasing your risk of tooth decay and gum disease but leaving you vulnerable to chronic bad breath as well.
#2: Drink Plenty of Water
Dry mouth is a major contributor to bad breath. When your mouth is properly hydrated, you have plenty of saliva to wash away bacteria and fight foul odors the natural way. Without it, though, you are likely to suffer from chronic bad breath — as well as tooth decay, gum disease, and other oral health hazards. Toss a reusable water bottle into your bag at the beginning of the day as a reminder to stay hydrated.
#3: Chew (Sugar-Free) Gum
Chewing sugar-free gum after meals and in the middle of the afternoon helps to combat bad breath in two ways. First, it stimulates saliva production to fight bacteria buildup and keep your smile cleaner (and fresher). Second, it leaves you with the extra burst of flavor that has been added to it — whether that's peppermint, cinnamon, citrus, or another favorite.
#4: See Your Dentist
If you have tried these steps but still can't seem to solve your bad breath issue, it may be time to consult a professional. It is possible that you have gum disease, which is an infection of the periodontal (gum) tissue that can also lead to receding gums and eventually tooth loss. Your dentist can provide gum disease treatment in addition to special kinds of toothpaste and mouth rinses that will help you to combat the breath issue.
No matter the solution that is right for you, the important thing is acting promptly! Bad breath can take a toll on your quality of life — but it can be treated. Don't wait to find a solution to breathe easy once again!
Meet the Practice
The team at Mt. Holly Family Dentistry offers comprehensive dental care from the comfort of their family dental practice. With complete services in general, restorative, and cosmetic dentistry, patients of all ages have their needs met here. If you are suffering from bad breath and would like to discuss how to treat it, or to schedule an appointment with an expert dental team, don't hesitate to contact the office at 609-267-3230.