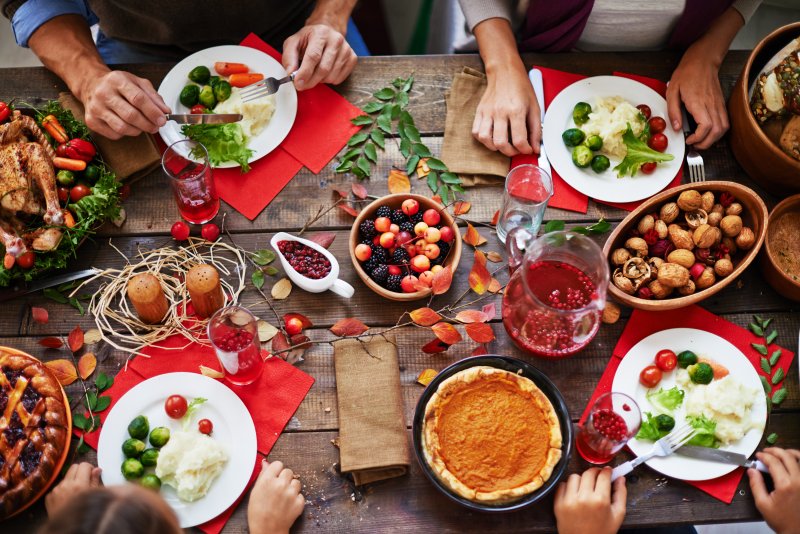 The holiday season is a magical time of the year that many people look forward to. Not only is it a chance to reconnect and spend quality time with those closest to you, but there are countless opportunities to indulge in delicious food. Although your belly may be satisfied during this time of the year, your dietary choices can put your oral health at risk. With that in mind, a dentist in Mt. Holly has compiled a list of popular holiday foods you should watch out for this season.
Stuffing
Stuffing is a staple that always makes an appearance on Thanksgiving. Although it's not particularly high in sugar, it's still pretty harmful to your oral health. The dish is composed primarily of carbohydrates, making it a starchy food. It promotes the accumulation and growth of bacteria that feed on the sugars that the starches are brown down into. Unfortunately, this process creates a harmful acid that wears down the enamel on your teeth, leaving them susceptible to problems like decay, cavities, and plaque buildup.
Candy Canes
Everyone knows that sugar is bad for your teeth. Well, since candy canes are essentially pure sugar, it's no surprise that they pose a threat to your dental health. The sweet treat is made of sucrose and high fructose corn syrup. Every time you eat one, cavity-causing bacteria in your mouth feeds on the particles, producing a harmful acid that attacks the enamel. Therefore, you should only eat candy canes in moderation.
Eggnog
If you've ever tried eggnog, you know from experience that it's an acquired taste. Since it's not a very popular drink, you may not see it as often at your holiday festivities. Because it's alcoholic and sugary, it's also not the most ideal drink for your teeth. That said, consider reaching for something sugar-free like gin and tonic to keep your smile safe!
Dried Fruit
Fresh fruits are a delicious, healthy snack. However, dried fruit is not as great for your oral and overall health. Because these treats are chewy, they tend to stick easily to the surfaces of teeth, providing nourishment for cavity-causing bacteria. To keep your pearly whites safe, opt for fresh fruit whenever possible.
Sugary Baked Treats
Baked goods like cookies, pies, and cakes are not the best for your health, but you'll still see plenty of them during the holiday season. Even though it's nearly impossible to avoid these foods, you should try your best to consume them only in moderation. Overconsumption can put your smile at risk by increasing your chances of cavities, decay, gum disease, and other oral health problems.
Protect your smile this season by being mindful of your consumption of these holiday foods. That way, you can ensure your pearly whites remain in their best shape!
About the Practice
At Mt. Holly Family Dentistry, we always go the extra mile to provide every patient with the exceptional, individually tailored, high-quality care they deserve. Our team is passionate about helping everyone that walks through our door achieve the beautiful, healthy smile they deserve. For more holiday tips, visit our website or call (609) 267-3230.