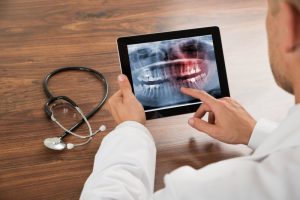 Is it too good to be true to be able to experience the best of two worlds at the same time? When it comes to receiving the best dental care, it's no stretch of the imagination, because your dentist in Westhampton provides the perfect combination of expertise and the latest in dental technology. As you continue reading, you'll learn more about the helpful tools he has to deliver top-notch care and enhance your oral health for years to come.
Why Your Dentist Uses Advanced Dental Technology
One of the benefits of technological improvements is that certain situations that used to create anxiety can be experienced with a greater degree of ease. Furthermore, these advanced aids magnify the skillset of your dentist, which translates into more accurate diagnoses, faster appointments, more effective treatments and comfortable procedures.
Painless Numbing
Does the thought of a large needle being used to numb your mouth frighten you? If so, then painless numbing will serve as a major relief. Your dentist will use a new technology called single tooth anesthesia (STA) that delivers the numbing medication in a virtually undetectable, pain-free manner.
This method also eliminates numbness in your mouth and slurred speech. This is because the medication is delivered directly to the area that is being treated.
All Digital X-rays
X-rays are a necessary part of most dental visits because they help to give your family dentist in Westhampton a full picture of what is going on inside your mouth. However, exposure to radiation is a concern for many patients. With all digital X-rays, though, you'll be exposed to far less radiation and will enjoy a much faster process, as the images are nearly simultaneously available.
Soft-Tissue Laser
The soft-tissue laser is another amazing breakthrough that your dentist incorporates into treatments. It has several beneficial qualities, including:
It can be used to replace the drill when prepping a tooth for a filling.
It can be used to reshape gum tissue.
It's a valuable tool in preparing a tooth for cosmetic bonding.
It can remove canker sores.
Air Abrasion
When sealant is applied to your teeth, the air abrasion method cuts down on several steps. It uses forced air mixed with gentle abrasives to remove particles trapped in the grooves in your molars. It can also be used to remove debris to prep a tooth for a filling. What's better is that it requires no anesthesia.
Intra-Oral Cameras
You may have felt left out in the past when your dentist or hygienist were performing procedures, wondering, "What are they seeing?" With intra-oral cameras, those days of being in the dark are over. These cigar-sized cameras allow you to get a bird's-eye-view of your mouth while work is being done.
DIAGNOdent Laser-Assisted Cavity Detection
There once was a time when it was very difficult for dentists to detect a cavity in the back teeth, until it was so large that it could be seen by the naked eye. With another type of laser, called DIAGNOdent, your dentist will be able to identify a cavity much earlier. Thus, he can address it well before it has a chance to wear down more of your tooth.
To experience the perfect marriage of expertise and advanced technology, contact your dentist today to schedule your first preventive care appointment!