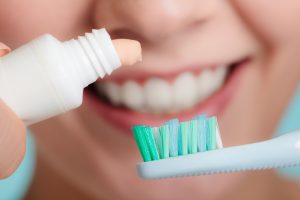 Who doesn't want to have a bright and brilliant smile? We're talking about the kind that lights up the room when you enter. To achieve this coveted look, you may consider a multitude of methods, but how do you know which is actually effective? Thankfully, you don't have to remain in the dark because your dentist in Westhampton has answers. In addition, he'll provide his professional insight about whitening toothpastes and explain why the in-office method is the best option for you.
Are Whitening Toothpastes Effective?
Before we assess the effectiveness of whitening toothpastes, let's first take a look at how they work. Typically, they contain abrasive ingredients like silica, that scrub your enamel (the outer layer of your teeth) in an attempt to agitate and remove stains. It usually takes a few weeks before you start seeing any results.
Thus, whitening toothpastes are effective, but the question you musk ask yourself is: how effective would you like your whitening method to be? If you desire to have the most impactful change to the appearance of your teeth, then there is a much more effective way available.
Professional Teeth Whitening as the Gold Standard
For faster, more impactful and longer lasting results, your dentist offers teeth whitening in Westhampton. Although the in-office procedure uses peroxide and carbamide peroxide as the active agents just like over-the-counter products, there are two main differences between the delivery systems:
Low Dosage – In over-the-counter products (including whitening toothpastes) the dosage of peroxide is too low to be highly effective, which this is done as a safety precaution. This is because higher concentrations can irritate your lips and gums and cause other issues. Thus, they should only be delivered by a trained professional.
Don't Address Saliva – Another downside to store-bought whiteners is that their application methods do not prevent saliva from accessing the tooth. This is key because saliva contains enzymes that neutralize the oxidizing effects of peroxide, reversing all of the benefits of the whitening procedure.
When you visit your local oral professional for teeth whitening you can also expect to see your teeth change in appearance after the first application, with noticeable improvements up to several shades lighter than your previous condition. In addition, you can feel safe in knowing that your dentist will provide the exact dosage needed to deliver the results you desire – no guessing – no risks.
To learn more about the process and how you can get a smile that leaves you feeling like a superstar, just reach out to your local whitening expert today!
About the Author
Born and raised in the Mt. Holly community, Dr. Bill Greenberg has been practicing dentistry for 40 years. A graduate of Tufts University, he has never stopped learning, maintaining fellowship status with the Academy of General Dentistry and the Las Vegas Institute for Advanced Dental Studies. Dr. Greenberg also has years of training and experience in cosmetic dentistry and a variety of other services. He cares for patients at Mt. Holly Family Dentistry and can be reached for more information through his website.