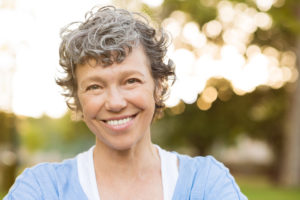 Living with a compromised tooth is frustrating! Eating the foods you love becomes challenging. Talking to other people may also feel embarrassing. This takes a toll on your confidence and your health. The good news is that modern dentistry offers many great options for restoring your tooth, and your dentist in Mount Holly discusses solutions that might be right for your needs.
Bridging the Gap
A dental bridge is an ideal option for replacing one or more adjacent missing teeth. Using your healthy teeth as anchors for crowns, a bridge literally fills in the gap with prosthetic teeth that are attached to the crowns and customized to complement your smile. Keeping those anchor teeth clean is the key to ensuring the longevity of your bridge, and with regular dental checkups and excellent home care, your bridge can potentially last for 10-13 years.
Full and Partial Dentures
A full denture is a removable appliance typically made of acrylic that is designed to replace an entire arch of teeth. Today's dentures offer a natural look because they are designed to enhance your facial structure and skin tone. Because they utilize suction and snug fit to stay in place, you may experience a learning curve when you first begin to eat and talk with your denture in, however most patients love the way they immediately restore their smile.
Patients who have multiple missing teeth, yet still retain a large number of healthy teeth might benefit from a partial denture. A partial is also removable and it utilizes metal clasps as anchors to your healthy teeth, while prosthetic teeth fill in the gaps much like a puzzle piece.
Dental Implants
Ideal for restoring one tooth or multiple missing teeth, dental implants have quickly become the gold standard for tooth replacement in dentistry because they replace both your root and your tooth. This not only completes your smile, it also protects the health of your bone by keeping it stimulated.
A titanium post is placed into your jawbone during a short surgical procedure, and then allowed to heal for a period of 4-6 months. This allows it time to properly integrate with your bone and creates a stable foundation for your porcelain crown, which replaces your tooth.
Dental implants are also capable of supporting prosthetics such as a denture, partial, or dental bridge. Our dentists can design a denture that will snap into strategically placed implants that will provide a secure fit with no movement or slippage when you talk or eat.
Contact Mt. Holly Family Dentistry to Learn More
If you're ready to learn more about the possibilities for your smile, contact Mt. Holly Family Dentistry to schedule your consultation.