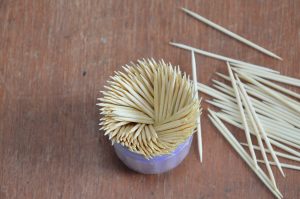 Toothpicks call to mind images of cool guys in movies — what are they trying to get out from between their teeth anyway? Or, you might think of trays of delicious hors d'oeuvres that float around at weddings and your annual company holiday party. But do you use toothpicks to clean your own teeth? Your dentist in Lumberton advises you not to. Here's why.
Toothpicks Can Cause Damage
Wooden toothpicks are effective at removing food from between your teeth, and occasionally, everyone gets something stuck amongst their pearly whites that they just need a toothpick to remove. Especially if you're out on date night, it might be handy to have a toothpick within reach.
However, if you constantly get food stuck between your teeth, you might have some alignment issues. It's best to see your dental care provider to ask about options for straightening out those pearly whites instead of relying on toothpicks all the time.
Furthermore, heavy toothpick usage can damage your gums. The pink tissues that hold your teeth in place may start to bleed or cause you pain because of your toothpick habit.
Your gums are the only part of your body that toothpicks can hurt. They're among the most common items that people swallow accidentally. Since they're so thin and pointy, they can wreak havoc as they're traveling through the body. Ouch! They're also difficult to see on x-rays, meaning that a doc might not be able to pinpoint the problem if a toothpick slips into your digestive system.
Toothpicks Don't Wok as Well as Floss
A toothpick has a narrow, sharp tip, but the tip can only reach so far between your teeth. Floss is narrow all along its length, meaning that it can clean the entire space and do a better job of removing particles that get lodged in your mouth's tightest spaces. Plus, floss comes in different degrees of thickness so you can choose one that works best for your teeth.
Be careful when you're flossing, though. Just like toothpicks, it can cause damage if it's not used properly. Wrap the floss around your fingers and gently maneuver it between your teeth. Your dentist can teach you the best flossing techniques. You might even try a water flosser instead; many people find that it provides a more pleasant experience than traditional floss.
Your Dentist Can Help Too!
If you think that toothpick usage has damaged your gums, head to your dentist in Lumberton so a professional can examine your mouth. Your dental care professional can check for any issues that might need treatment.
Also, your dentist can recommend specific products that are good for cleaning between your teeth. Wooden toothpicks won't be on the list of suggested tools, though.
Need to reach the tight spaces between your pearly whites? Reach for floss instead of a toothpick.
About Mt. Holly Family Dentistry
The team of dentists at Mt. Holly Family Dentistry is proud to provide personalized, caring services to patients in the Lumberton area. If you have questions about how to care for your oral health, contact us at 609-267-3230.