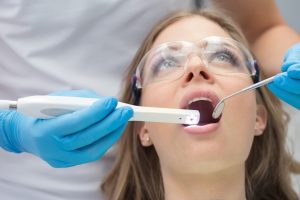 Dentistry has been around for thousands of years. When it first began, it was a brutal profession that often left patients in pain. We're happy to say that dentistry has evolved! Thanks to modern technology, your dentist in Lumberton can make sure you're comfortable and relaxed while you get those pearly whites worked on. Here are just a few examples of the innovations we use to create a positive experience for everyone who comes into our office.
Painless Numbing
Many people go to the dentist knowing that they'll be numb during the procedure — but they hate the shot that numbs them in the first place. We address this problem by using a topical gel to pre-anesthetize patients, meaning that you may not feel the numbing shot at all.
We also employ the amazing STA (single-tooth anesthesia) system, which delivers anesthesia at a very slow rate — so slow that you may not even realize it's happening. It's also highly localized, which means that only the area we're working on loses sensation. You don't have to worry about getting a numb tongue or lips.
Intraoral Camera
Ever wish you could see what your dentist sees? We use a small intraoral camera connected to a computer to give you a look at what's going on in your mouth. The visual helps patients understand any oral health problems they're experiencing and can ease their mind about treatments they need.
In the past, intraoral cameras required a cart in order to move around our office because the required equipment was so large. These days, everything fits into a little wand that's about the size of a cigar.
DIAGNOdent Cavity Detection
Sometimes, it's difficult even for a trained professional to spot little cavities on the teeth at the back of your mouth. Without a soft spot on the tooth's surface or a visible hole, there was no way to know that a problem was brewing. Thanks to DIAGNOdent, that is changing.
This technology uses a laser to detect cavities that are starting below the surface of a tooth. It measures how much light is reflected in the mouth and uses the data to pinpoint cavities. Catching cavities early on with DIAGNOdent can save you time, money, and pain down the road.
Digital X-Rays
Traditional x-rays use film to capture and display a picture of what's going on below the surface of your teeth. However, our digital x-rays are superior because they use less radiation. They're also faster and more convenient than their traditional counterparts.
Technology isn't just for Silicon Valley. Your dentist in Lumberton is proud to combine technology with friendly, knowledgeable service to create a positive experience for you every time you come to our office.
About Mt. Holly Family Dentistry
The team of four dentists at Mt. Holly Family Dentistry provides a range of dental services to help patients achieve beautiful, healthy smiles. If you'd like to learn more about our practice and the technology we use, contact us at 609-267-3230.