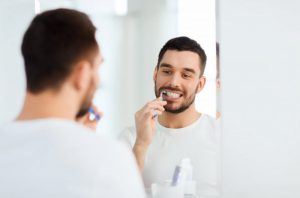 You've probably been told since you were little about the importance of brushing twice a day and seeing the dentist regularly, but how much do you really know about protecting your oral health? There are a lot of misconceptions floating around that can lead you to developing bad habits that will ultimately harm your teeth – possibly even causing tooth loss. Here are 5 myths that every dentist would like to see debunked.
1. You Don't Need to See the Dentist if Nothing's Bothering You
Some patients decide to skip their biannual dental appointments if they don't think there's anything wrong with their mouths. After all, if you do get a cavity, you'll know right away from the pain, right? Wrong. Tooth decay and gum disease don't always hurt; in fact, pain can be a sign that the infection has advanced to the point where more drastic treatment such as root canal therapy or tooth extraction is necessary. The goal of a dental checkup is prevention, whether that means stopping an issue from getting worse or making sure it doesn't happen at all.
2. Flossing isn't Necessary
While it's true that the government has removed flossing from its Dietary Guidelines for Americans, that doesn't necessarily mean it isn't beneficial. Most dentists will still recommend that you floss daily in order to remove the plaque buildup between your teeth that you wouldn't be able to remove otherwise.
3. Sugar is the Main Cause of Cavities
Sugary snacks such as candy can definitely raise the likelihood of cavities, but foods that contain starchy carbohydrates – chips, pasta, crackers, bread and so on – can be just as much of a threat to your oral health. The starches may stay in your mouth and eventually break down into simple sugars that are eaten by the bacteria that cause decay. It's best to avoid these foods, but if you do eat them from time to time, remember to brush afterwards.
4. Gum Disease is Only an Oral Problem
You might think that infected gums are only a threat to your mouth, but it can contribute to some serious health issues in the long run. Studies have shown a link between gum disease and an increased risk of diabetes, hypertension, and certain kinds of cancers; the condition has also been connected to Alzheimer's and respiratory diseases.
5. Your Dentist Won't Notice That You Haven't Been Brushing
You might think that you'll be able to get a clean bill of health if you brush right before your dental appointment, but that likely won't be enough. If plaque isn't removed with daily oral care, it'll harden into tartar that you can't remove by yourself. You also won't be able to reverse inflammation in the gums with only a few days of flossing.
These and other misconceptions can have a severe negative impact on your oral health. Speak with your dentist about your dental habits to identify any weaknesses you can work on; it just might save your smile.
About the Practice
At Mt. Holly Family Dentistry, Drs. H. William Greenberg, Adam Cygler and Janice Choi strive to help patients who are anxious about receiving treatment by providing friendly, personalized care. They're constantly learning new techniques and technologies to deliver the most comfortable, effective treatments possible. To schedule an appointment to evaluate your oral health, visit their website or call (609) 267-3230.