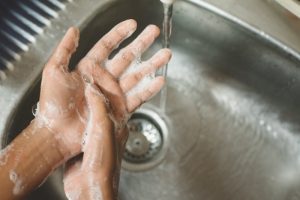 With the new COVID-19 pandemic in full swing, everyone is suddenly worried about staying clean and not catching the virus. People are taking extra care not to spread germs, such as washing their hands more often and wearing masks when they can. Have you ever wondered how your dentist stays clean and safe during this time? While your dentist might only be open for emergency patients, it's still massively important that they follow standard cleaning procedures and dental sanitization practices. Here are a few of them.
Hand Hygiene
Keeping your hands clean is arguably the most important aspect of preventing the spread of coronavirus. It also applies to your dental team, who will wear a different set of gloves when treating each patient. They will also make sure to wash their hands before and after removing these gloves, just to be on the safe side. If for some reason they can't wash their hands, they will use a hand sanitizer to rid their hands of germs.
Use of Personal Protective Equipment
Personal protective equipment (PPE) refers to wearable items like gloves, masks, and eyewear. As mentioned earlier, a dental professional will change out their gloves and masks between patients. Before leaving the work areas, they will remove all PPE to ensure that no germs get spread outside of the dental office.
Respiratory Hygiene
Your dentist's office should have a sign posted outside the door with suggestions to slow the spread of germs, such as coughing and sneezing into your elbow instead of your hands and performing hand hygiene after coming into contact with respiratory droplets (which are produced when coughing and sneezing). They should also provide tissues and no-contact receptacles for said tissues for proper disposal.
Only Accepting Emergency Patients
By limiting the number of patients that they see and not performing any elective procedures, your dentist can severely slow down the spread of the virus. In a time like this, a normal waiting room is essentially a giant petri dish where germs can easily be spread, especially if it's crowded. For the time being, your dentist is only taking appointments if you are in pain or serious discomfort.
Dental offices are actually some of the cleanest places in the country, especially right now. that is thanks in part to these dental sanitization practices laid out by the Centers for Disease Control and Prevention. Rest assured that should you have an emergency, you can visit your dentist without worrying about contracting the coronavirus.