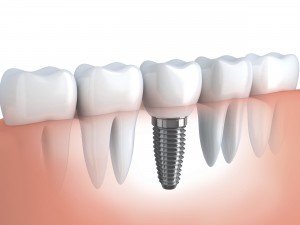 At Mt. Holly Family Dentistry, we love dental implants. Why? We've seen time and time again how they transform incomplete smiles — and how that transformation has the power to change lives, too. Many people with missing teeth want to know one thing: am I a good candidate for teeth implants? Your Mt. Holly NJ dentist is in with the answer, so keep reading to find out more about what dental implants can do for you.

Dental Implants Provide Sturdy Tooth Replacement
The thing that makes dental implants different from other tooth replacement options, like fixed bridges or non-implant supported dentures, is that they replace both the tooth and its root. That's crucial to maintaining the overall health and structure of your jaw, as the tooth's root provides the stimulation bones need to remain intact. With options that just replace the visible portion of the tooth, the mouth will continue to deteriorate and change shape, resulting in even more missing teeth later on.
The Procedure for Dental Implants: What to Expect
Dental implants are tiny posts made of titanium that are surgically implanted into the jaw. Once the initial placement is complete, patients are given a recovery period of between two to six months — the amount of time required for osseointegration, or the fusing of the implant with the bone, to take place.
Once the recovery period is complete and the dental implants are stable, your dentist exposes the top and places an abutment on each implant. That's what will hold your tooth replacement. Once the new teeth have been sturdily placed, the process is complete and you walk out of the Mt. Holly dental office with a smile you'll never want to hide again.
The Ideal Candidate for Dental Implants
In order to find out if you're a good candidate for dental implants, your Mt. Holly dentist will check for two things.
Adequate existing jawbone. Patients who have plenty of supporting jawbone structure are usually excellent candidates for dental implants. Sometimes, existing tooth loss has caused too much deterioration of the bone, preventing the success of dental implants.
Good overall and oral health. Your dentist will also talk with you and examine your mouth to ensure you're in good overall and oral health. Some conditions, like gum disease and diabetes, can inhibit the recovery necessary for successful dental implants.
Schedule an Appointment For Dental Implants in Mt. Holly, NJ
If you're missing one or more teeth and suspect that dental implants would be a wonderful replacement option for your unique mouth, please don't hesitate to schedule an appointment with your Mt. Holly, NJ dentist today. We'll help you get your beautiful, complete smile back.