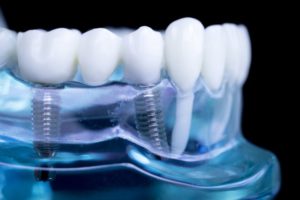 If you want to replace your missing teeth with the next best thing, look no further than dental implants in Mt. Holly! They're easily the most long-lasting, comfortable, and lifelike way to rebuild your beautiful smile. While anyone who's missing teeth is usually a good candidate for this state-of-the-art dental treatment, there are factors that may cause some cases to be more complex than others. Read on to learn more about some of the most common ones.
Number of Missing Teeth
No matter how many gaps you have in your smile, dental implants can help. However, the number of teeth you need to replace plays a key role in what type of restoration you'll need and the complexity of your case:
Implant-retained crowns are used to replace a single missing tooth, and only need one titanium post. These are typically the least complicated cases.
Implant-retained bridges are used to replace several missing teeth in a row with a dental bridge that's supported by one titanium bridge on either side of the gap.
Implant-retained dentures can replace and entire arch of missing teeth. However, since four to six implants are needed to hold the denture in place, these cases are usually more complex.
Jawbone Density
Dental implants become a permanent fixture in your smile by fusing directly with your jawbone. If it's been some time since you've lost your tooth, it's likely that your jawbone has lost some density. It may also be thinner or weaker because of age or medical conditions. In these cases, there typically isn't enough bone mass to support the dental implant. However, this doesn't mean you can't get them eventually! You may need to strengthen your jawbone with a bone graft first before you're ready for your new smile.
Oral Health Issues
Since a dental implant is surgically inserted into your jaw, it's essential that your mouth is healthy. An abundance of plaque or bacteria will increase your risk of the implant site getting infected and threaten its success. Before giving you the green light for dental implants, your dentist will carefully check for any oral health issues that need to be addressed first, like:
Tooth decay or damage
Gum disease
Oral infections or sores
Medical Conditions
Even though the dental implant process is a surgical procedure in the mouth, the health of the rest of your body needs to be taken into account as well. You'll need to be healthy enough for minor surgery and have any systemic health conditions under control. If you have issues like diabetes or HIV that influence your immune system, you'll need to take special care that your dental implant site doesn't become infected.
Not every dental implant case may be as simple as we would like, but the long-term benefits are well worth the effort! Your Mt. Holly dentist can help you discover the best path towards regaining your confident and complete smile!
About the Practice
For over 30 years now, our talented team of dental professionals at Mt. Holly Family Dentistry has been helping the smiles of Burlington County, NJ and the surrounding communities look and feel their best. While they're committed to helping you keep all your teeth healthy, comfortable, and intact for a lifetime, they also offer a variety of tooth replacement options. They're proud to offer state-of-the-art dental implants to help you fill in any and all gaps in your beautiful pearly whites. If you'd like to learn more about dental implants, feel free to contact them via their website or at (609) 267-3230.