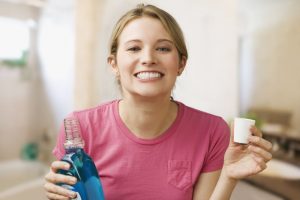 With COVID-19 continuing to spread throughout the country, medical professionals on the local, state and national levels are working around the clock to come up with the best solutions. While social distancing and consistent and thorough handwashing are some of the preventive measures you've probably heard about, is there anything else you can do to protect yourself? Will using mouthwash to maintain a healthy mouth help to slow the spread of COVID-19? Continue reading to find out.
How COVID-19 Enters the Body
Health officials have reported that three major entry points for COVID-19 are the eyes, nose and mouth. Because most people unconsciously touch their face, thorough and consistent handwashing has become more important than ever before.
Along with removing debris, germs and bacteria from your hands, it's also vital to maintain your oral health as a means of discouraging the spread of the virus. This is where excellent dental care comes into the picture.
Using Mouthwash as a Supplement
It's important to remember that brushing and flossing your teeth are mainstays of proper oral hygiene. Thus, there is no substitute for these practices. However, rinsing with mouthwash can serve as an excellent supplement. An antiseptic wash will help to rid the mouth of certain germs and bacteria, but it should be noted that it can't kill the COVID-19 virus.
Questions have also risen about the efficacy of dentists having patients perform a pre-treatment rinse with antiseptic mouthwash as a means of preventing the spread of COVID-19. Presently, there is no conclusive evidence suggesting that this is an effective measure.
Making Sense of It All
While using mouthwash certainly doesn't serve as a magical "silver bullet" to stop the spread of COVID-19, it definitely contributes to creating an oral environment that is less conducive to the virus being transmitted. So you can't go wrong by taking some extra precautions when practicing oral hygiene. And no matter what types of improvements you make, you should continue these practices even after the COVID-19 pandemic subsides.
Here are some additional measures you can take to better fortify your oral health:
Keep toothbrushes separated and stand them upright to dry.
Thoroughly clean your toothbrush once a week by soaking it in hydrogen peroxide, running it through a dishwasher cycle or boiling it for five minutes.
Always wash your hands and face before and after performing oral hygiene.
Visiting a dentist semi-annually for checkups and cleanings is always a great way to maintain healthy teeth and gums, but given the current health crisis, most practices are temporarily closed for most elective and restorative forms of dentistry. However, if you have a dental emergency, a local dentist can provide the oral health care you need to fully recover.
About the Author
Dr. Bill Greenberg earned his dental degree from Tufts University. Four decades later, he remains an avid learner who provides top-notch care to his patients. Until the COVID-19 curve flattens, Dr. Greenberg is currently only providing emergency dental care at Mt. Holly Family Dentistry. He can be reached for more information through his website.