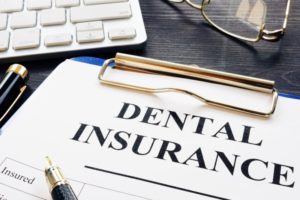 You pay for your dental insurance every month and you know it's important, but are you making the most of your benefits? Many people don't fully understand how dental insurance works and as a result, end up avoiding, delaying, or overpaying for their dental care. Thankfully, understanding a few basic terms and concepts can help you save money while caring for your oral health! Read on as your Mt. Holly dentist shares the five best ways to maximize dental insurance benefits.
1.) Remember the 100-80-50 Rule
You'll have to look at the details of your specific dental insurance plan to know for sure which treatments it covers. However, most policies follow the 100-80-50 rule of coverage, which means they'll cover:
90-100% of preventive care like checkups, cleanings, sealants, and fluoride treatments.
70-80% of basic treatments such as filling, emergency care, and root scaling and planning.
45-50% of major procedures including dental crowns, dentures, and bridges.
2.) Ask for a Pre-Determination of Benefits
The 100-80-50 rule will help you predict the cost of your treatment. However, before having any dental work that goes above and beyond a simple checkup, you should ask your dentist for a pre-determination of benefits. They'll send an estimate to your insurance company, who will process it and send it back with a statement that breaks down what your policy will cover. This will help you plan for your treatments and avoid any unpleasant surprises when it comes time to pay for them.
3.) Understanding Deductibles, Premiums, and Copays
There are several costs you'll be responsible paying for out of pocket, including:
Deductible: Your deductible is how much you'll need to pay for your dental care before your insurance starts to cover the costs with your annual maximum.
Premium: To keep your insurance active, you'll need to pay a premium. You'll pay this specific rate every month, quarter, or year depending on your plan.
Copay: Each time you visit your dentist, you'll need to pay a preset copay before receiving a treatment when you check in for your appointment.
4.) Don't Let Your Annual Maximum Go to Waste
Once you've paid your deductible, your dental insurance will begin covering the cost of your care using the 100-80-50 rule with your annual maximum. This is how much they're willing to pay for your dental work in a single period, usually one calendar year. Then, when the year ends, your deductible will be reset and whatever you haven't used of your annual maximum will expire. To make the most out of your benefits, make sure to use as much of your annual maximum up on the dental work you need before your plan renews.
5.) Take Advantage of Your Dental Checkups
Nearly every dental insurance plan covers the cost of two dental checkups and cleanings every year. These simple appointments are the best way to spot and stop oral health issues as early as possible, or hopefully prevent them from developing in the first place. Far too many people wait to visit their dentist until their teeth hurt, then need more expensive treatments that could have been avoided with a few simple checkups!
Dental insurance can save you a lot of time and money while you care for your oral health, as long as you use it properly! Keep these five simple but important tips in mind to ensure you're maximizing your dental insurance coverage.
About the Practice
At Mt. Holly Family Dentistry, we're proud to provide award-winning dentistry that's comfortable, effective, and personalized. Our team of dental experts is committed to respecting your time, staying current with the latest in dental technology, and providing you the high-quality care you deserve. We accept numerous dental insurances, and are happy to file and process claims on your behalf. To learn more about how dental insurance works, feel free to contact us via our website or at (609) 267-3230.