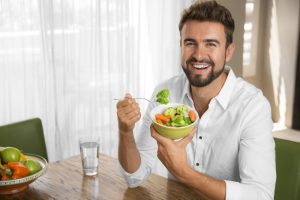 It's that time of year again! Time to make resolutions to be better—maybe to eat healthier foods. By the time February rolls around, some can revert back to their old habits when they don't feel that their goals are important or meaningful enough. But not this year! 2019 is going to be different because consuming healthy foods can not only help your waistline and your overall health but also improve your oral health. Check out this advice from your dentist in Mt. Holly to make it easier to keep your resolution to be healthy.
Consume Less Sugar
When you eat, you not only feed yourself but also the bacteria in your mouth. These harmful bacteria thrive on sugar and create acids that attack your teeth and irritate your gums, leading to tooth decay and gum disease. The more sugar you put in your mouth, the more potential damage you can do to your mouth. The same concept goes for foods that are high in carbohydrates or starches. When you cut back on your sugar consumption, you reduce the risk of tooth decay.
Drink More Water
Not only is water a sugarless drink, but water also helps to protect your mouth from cavity-causing bacteria by flushing them away. Especially for those who have dry mouth from certain medications, it is important to stay hydrated for both your body and your mouth. Instead of soda or energy drinks, reach for water this year.
Eat Mouth-Friendly Foods
Believe it or not, there are foods that actually help your oral health, and many of them also help your overall wellbeing. For example, you should consume calcium-, Vitamin D-, and phosphorus-rich foods like cheese, milk, or yogurt to support your teeth.
Other mouth-friendly foods include fibrous fruit and vegetables, such as the following:
Leafy greens.
Broccoli.
Apples.
Carrots.
These foods can help both to scrub other food particles off your teeth and also to encourage saliva production. The saliva then helps wash away plaque and bacteria.
In addition to fiber-rich foods, you can choose fruits and vegetables that are high in water content, again, to flush out food particles, plaque, and bacteria. These water-filled foods include the following:
Watermelon.
Pears.
Cucumbers.
Celery.
Eat Smart
If you do eat carbohydrates and starches, try to reserve them for meal times and not as snacks throughout the day. At meals, you tend to produce more saliva, which helps protect your mouth.
Although making changes to your lifestyle and diet choices can be difficult, you will notice improvement when you do them. As you implement these tips into your daily diet, you can drastically promote both your oral and overall health. Make 2019 the year that you changed your body, mouth, and life for the better. For more information about preventive dental care in Mt. Holly, you can contact your dentist.
About the Author
At Mt. Holly Family Dentistry, Drs. Adam Cygler, and Janice Choi and the staff are committed to their relationships with patients. Spending time to get to know each patient and answer questions, they become partners with their patients for their oral health and deciding treatment plans. To contact them to set an appointment, call (609) 267-3230 or click here.