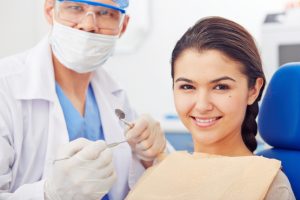 You are struck in the mouth during a ball game. You bite a piece of peanut brittle. These incidents and more cause cracked, chipped and avulsed teeth. They even may precipitate a throbbing toothache. Your Mt. Holly emergency dentist has the skill to repair damaged teeth for strong and functional smiles. Modern cosmetic and restorative procedures relieve pain and make smile defects disappear.
Chips, Fractures and Avulsed Teeth
An accident can spoil the appearance and function of any tooth in your mouth.  However, you don't have to suffer the pain and embarrassment of a damaged smile.
Bring your dental emergency to Mt. Holly Family Dentistry for quick and effective relief.
Drs. Greenberg, Ko-Kim, Cygler or Govitrikar will examine the damage and recommend ways to strengthen it and restore appearance and function. In case of an emergency,  your dentist in Mt. Holly and the team will get you comfortable and stable right away and see you in the office the same day as necessary.
Your repaired tooth will blend right in with the rest of your healthy teeth. Here are the cosmetic and restorative services Dr. Greenberg and his associate dentists deliver:
Tooth-colored fillings Crafted from composite resin, this filling material restores decayed teeth and also replaces chipped, dark amalgam fillings. Composite resin requires conservative removal of surrounding enamel, and the resin bonds directly to existing tooth structure.
Composite resin bonding Using the same tooth-colored material, the emergency dentist fills small cracks, chips and even gaps and overlapping tooth surfaces. Hardened with a special curing light, composite resin bonding is durable, resists discoloration and takes only one short visit to place.
All-ceramic crowns These caps cover chipped, broken or severely decayed teeth. The porcelain cap is tooth-colored from gums to crown. An initial evaluation, X-rays and impressions start the restoration. During a subsequent visit, the dentist bonds the crown in place, ensuring good bite. Crowns give chipped or decayed teeth added years of service.
Onlays and inlays These partial crowns replace large fillings or restore teeth cracked at the corners, or cusps. They require minimal removal of enamel and are tooth-colored and seamless. They make chipped teeth stronger and more attractive.
Porcelain veneers These tooth-shaped shells of ceramic cover the front of teeth damaged by cracks, chips, stains,odd shape, gaps or crowding. Because they improve smiles quickly, veneers are called "instant orthodontics." They strengthen tooth enamel as well.
Root canal therapy cleans and disinfects the interior of an abscessed and painful tooth. The procedure relieves pain and preserves healthy tooth structure, protecting it with a dental crown.
Some Notes of Caution
Always call the office when a dental emergency occurs. In the case of a knocked out tooth, rinse the tooth in warm water and replace the tooth in the empty socket. Transport to Mt. Holly Dentistry as soon as possible. An avulsed tooth has a better chance of survival if reimplanted within one hour of injury. If you cannot hold it in the socket, place it between cheek and gums or in a plastic container with milk or over the counter tooth preservative.
Also, when a tooth is chipped or cracked, save the pieces and bring them to the office. Transport them as you would an avulsed tooth.
Don't Hesitate in an Emergency
Contact Mt. Holly Family Dentistry immediately. The staff is there to serve your immediate and long-term dental needs and work to give you and yours the healthiest, brightest smiles possible.