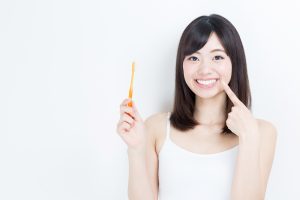 Did you know your smile is one of the first things people notice about you, and it's also one of the main physical attributes people remember after meeting someone new? It's true! In fact, a social media poll indicated that those who have beautiful smiles were perceived as smarter, healthier, wealthier, and younger. In fact, research indicates that people who have attractive smiles are thought to be about ten years young on average. That's not too shabby. If you want to take a sip from the fountain of youth, a visit to your local cosmetic dentist may be just what you're looking for.

Look 10 Years Younger
The most obvious benefit of cosmetic dentistry is your appearance. Your smile will look great. However, what most people don't consider is how a discolored or worn smile may be aging them. Your skin wrinkles and shows fine lines as you age. Your teeth also indicate signs of the aging process. After years of daily wear and tear, tooth enamel becomes thinner, revealing the yellow colored dentin layer below. People with yellowing teeth appear immediately older. A simple teeth whitening treatment may be just what you need to take ten years off your perceived age.
Feel 100% Confident
Another unintended positive consequence of cosmetic dentistry is improved confidence. People who like the way their teeth look are more likely to interact in both personal and professional situations with confidence. Even if your teeth have numerous flaws, a porcelain veneer treatment plan may effectively enhance your smile in just a few, short office visits. That means, in about a month, you'll have a picture-perfect smile and exude confidence during every interaction.
Stay Happy & Healthy
Studies show that patients who are confident in the appearance of their smiles do two things that improve their oral and overall health – they take more time for oral hygiene and they smile more often. Increased time dedicated to in-office and at-home dental care to preserve the results of cosmetic treatments means patients are at a significantly reduced risk for oral health issues. Additionally, a study out of the University of California at Berkeley indicates that people who smile more live longer, are happier, and have a reduced divorce rate. With benefits like these, it may be well worth your while to consider a complete smile makeover plan to create an appearance you'll feel great about.
Meet the Mt. Holly Family Dentistry Team
At Mt. Holly Family Dentistry, we are dedicated to helping patients of all ages create a picture-perfect, healthy smile they'll be proud to share. Whether you're simply looking to brighten your teeth or you want to invest in a complete smile makeover, we have a wide range of cosmetic dentistry services to meet any need. Don't put off achieving the flawless smile of your dreams for one more day. Call our Mt. Holly dental office to schedule your cosmetic dentistry consultation. We'll evaluate your smile, discuss your desired results, and partner with you to create a smile makeover plan that will deliver your dream smile within your schedule and budget.