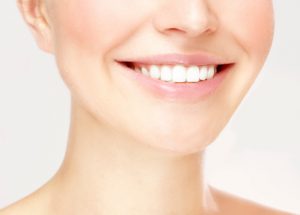 You love your healthy smile, but there's one problem. When you smile, a large swath of gum tissue shows, and you often cover your mouth in public. This aesthetic dental problem is nicknamed a "gummy smile." Often caused by simple heredity (It runs in families.), the gummy smile occurs in varying degrees. The dentists at Mt. Holly Family Dentistry offer solutions to this issue for brighter smiles people love to display.
How gummy is gummy?
Dentists such as Drs. Greenburg, Ko-Kim, Cygler and Govitrikar at Mt. Holly Family Dentistry assert that true gummy smiles reveal more than 3-4 mm of tissue above the teeth when a patient grins broadly. While this is largely a subjective judgement on the part of both dentist and patient, most of the ½ million gum surgeries performed annually involve this gum tissue measurement.
Reasons for gummy smiles
The American Dental Association says that these 500K gum surgeries, or gingivectomies, remove tissue overgrowth that has its roots in heredity. If mom or dad had a gummy smile, chances are you or your siblings have one, too.
In addition, having a short upper lip, or excessive upward movement of that lip, exposes a lot of gum tissue. Some upper teeth are simply short. Plus, dentists at SPEAR education say that overbite can contribute to this perceived defect, and that as teeth wear down, gum tissue grows. This is known as compensatory eruption.
Treatment of gummy smiles
Your Mt. Holly dentist says that you do not need complicated, uncomfortable surgery to correct a gummy smile. Mt. Holly Family Dentistry offers laser gum contouring (gingivectomy) or crown lengthening–a procedure used to prepare a tooth to receive a dental crown. Done right in the office, laser gum contouring involves no pain, no cutting or sutures and little to no bleeding. It comfortably eliminates excess tissue right in the smile zone using a small, hand-held laser tool.
Besides gum contouring, orthodontics sometimes corrects overbite, a common culprit in gummy smiles. Dr. Julie Ko-Kim provides qualified patients with Invisalign and Six-month Smiles–practically invisible aligners that work more quickly and efficiently to correct mild to moderate orthodontic issues.
Gummy smiles caused by improper jaw position may need referral to an oral surgeon specializing in orthognathic procedures. Some individuals receive treatment from a dentist or dermatologist who offers BOTOX injections. Applied directly to the upper lip, BOTOX paralyzes selected facial muscles which control the vertical movement of a smile.
Looking for a change?
The team at Mt. Holly Family Dentistry understand that your self-image depends, in part, on how confidently you smile. Contact the office to arrange a cosmetic dentistry consultation, and learn how the dentists can correct your gummy smile.