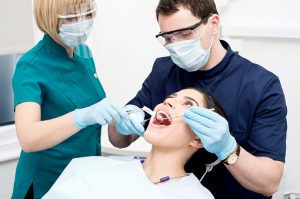 Preventive dentistry supports your oral and systemic health. Along with semi-annual dental examinations, professional cleanings brighten smiles and remove the plaque and tartar that lead to cavities and gum disease. Your Lumberton dentist at Mt. Holly Family Dentistry really encourages you to follow this simple guideline for your best smile possible.
Preventive Dentistry is Good for All of You
When you and your dentist prevent dental problems or catches them early, your oral and systemic health thrives. That's why your dentist in the Lumberton area,
Drs. Greenberg, Govitrikar or Cygler, recommend semi-annual dental exams and cleanings for everyone: from children to senior adults. Here's what your dentist will do during your comprehensive check-up at Mt. Holly Family Dentistry. He or she:
Checks for signs of tooth decay
Looks for symptoms of oral cancer, a common and deadly disease
Checks how your teeth bite together
Inspects existing restorations such as bridgework, implants, crowns and fillings
Performs periodontal probing to assess for gum disease which impacts overall health
Looks for gum disease symptoms such as redness, swelling, and recession
Takes digital X-rays as needed
Assesses the temporomandibular (jaw) joint for proper function, pain or noise
Also, the doctor updates your medical and surgical history and medications and asks about your concerns and smile goals to formulate a treatment plan. He or may recommend fluoride treatments and plastic sealants for children and adults to protect molars from tooth decay.
Hygienic Cleanings Remove Plaque and Tartar
While everyone wants a bright smile, regular hygienic cleanings at Mt. Holly Family Dentistry go well beyond that highly polished look. Your hygienist does a thorough job of removing plaque and tartar from tooth surfaces, interdental spaces and the gum line. Cleaning eliminates this unsightly biofilm and its toxic bacteria.
This oral bacteria secrete acids which cause cavities. Also, they cause inflammation and infection of gum tissue, leading to gingivitis and its more destructive cousin, periodontitis. These gum conditions push gums away from the teeth, degrading their connective tissue and, if left unchecked, destroying the underlying bone. Gum disease causes tooth loss in a surprisingly large percentage of adults in the United States each year. So, it's important to keep ahead of it.
Besides hurting oral health, gum disease affects systemic health, contributing to health issues such as:
Dementia and Alzheimer's Disease
Heart attack, stroke and high blood pressure
Rheumatoid arthritis
Pregnancy complications
Osteoporosis
Type-2 diabetes
So, professional cleanings keep gums healthy, teeth and jaw bone strong and major body systems healthy. They're really a small investment that reap big benefits.
When Was Your Last Check-up?
Why not schedule it now and enjoy your best possible smile? Contact Mt. Holly Family Dentistry for a convenient appointment time.