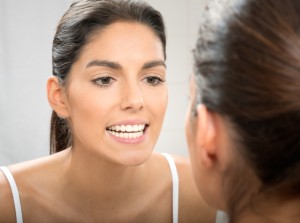 According to some recent research, mild to severe periodontal (gum) disease may affect up to 80% of US adults over 30. More conservative estimates from the Centers for Disease Control and Prevention place the number between 50 and 60%, but don't include patients with gingivitis, the mildest from of periodontal disease. The research may not agree on the number of people who suffer from periodontal disease, but dental researchers agree that gum disease is a serious problem in the US. Gum disease occurs when plaque or tartar build up around the gum line causing tissue irritation. Sources also vary on why the number of US adults with gum disease is so high, but some of the leading causes of gum disease include poor oral hygiene, hormonal changes, diabetes, genetic predisposition, and high risk behaviors (smoking, high sugar diet, and excessive drinking). Whatever the cause, it's essential that patients know the signs of gum disease, and seek treatment as soon as possible. The best way to avoid developing advanced periodontal disease is to make six month dental checkups and teeth cleanings part of your oral hygiene routine.

Signs and Symptoms of Gingivitis
As is the case with many oral health concerns, the best way to address gum disease is diagnosing and treating the issue at the earliest stages. Unfortunately, the signs and symptoms of gingivitis, the mildest form of periodontal disease, often go unnoticed by the untrained eye. Some patients may not even have symptoms in the earliest stages, but the most common warning signs include:
Red, swollen, or inflamed gums
Irritated gums that feel painful or itchy especially while eating or brushing
Bleeding gums
Bad breath
Change in the color of gum tissue
Detrimental Effects of Periodontitis
Left untreated, gingivitis can lead to periodontitis. By the time gum disease has progressed to this point, patients are typically able to recognize symptoms. For the most part, periodontitis has symptoms similar to those of gingivitis, but more advanced. However, periodontitis causes pockets to form between teeth and gums as it breaks down supportive bone and gum tissue. This leads to teeth feeling loose, changes in the way teeth fit together, and gaps or crowding.
Find out more from Your 08060 Dentist
If you notice any of the warning signs of gingivitis or periodontitis, don't wait. Contact Mt. Holly Family Dentistry to schedule an appointment today. The earlier gum disease is diagnosed and treated the better the odds that treatment will be effective.