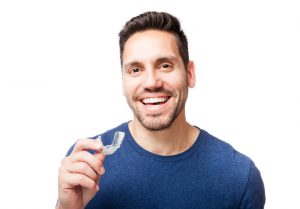 Easy chewing and oral hygiene and a virtually invisible appearance–these benefits and more make Invisalign In Mt. Holly a great option for older teens and adults. Who wouldn't want healthy, straight teeth without the discomfort and lengthy treatment times of metal bracket and wire braces? That's why Drs. Greenberg, Govitrikar and Cygler offer Invisalign to qualified patients.
How Does It Work?
The Invisalign system uses clear aligners made from biocompatible acrylic according to your dentist's  instructions, oral impressions, and three-dimensional imaging. Appropriate for mild to moderate orthodontic issues such as crossbite, open bite, tooth tipping, overjet and tooth rotation, Invisalign aligners fit snugly over top and bottom arches. Gradually, these appliances move teeth into better looking and functioning positions.
Amazingly, the appliances are very discreet. In fact, no one really notices a patient is wearing them. This is so encouraging to people who are reluctant to have obvious metal braces or who had their teeth shift around after previous orthodontic treatment.
Frequently Asked Questions about Invisalign
Who qualifies for Invisalign aligners? Older teens and adults often do. While complex orthodontic cases need traditional braces, Invisalign aligners work well for mild to moderate problems. People who want attractive smiles enjoy Invisalign aligners because they are invisible and may be removed to eat, brush and floss or for special occasions such as job interviews or graduations.
Does treatment take a long time? Treatment with Invisalign typically lasts nine to 18 months, with one year being average.  Conventional braces usually take double that time. Patients receive a total of 18 to 30 pairs of aligners, and they visit Mt. Holly Family Dentistry every six to eight weeks for progress checks and to get new aligners.  There are no complex adjustments. However, patients must wear their aligners for the prescribed 20 to 22 hours daily.
Are the aligners comfortable? Orthodontic patients always experience some level of discomfort as their teeth move–usually more at the beginning of treatment. However, with Invisalign clear aligners, patients are more comfortable than with metal braces, and soft tissues, such as the lips and cheeks, develop no sore spots. Aligners are customized and smooth.
Is home oral hygiene difficult? Caring for aligners and for your teeth and gums is easy with Invisalign. The aligners are removable and may be cleaned with water and a non-abrasive toothpaste. Patients brush their teeth twice daily and floss every day to keep teeth and gums healthy and aligners from trapping harmful bacteria. They also get their six-month examinations and cleanings at Mt. Holly Family Dentistry as usual.
What happens after treatment? Most patients wear retainers at night for several months so their teeth stay in their new positions.
Are You Interested in Invisalign?
The team at Mt. Holly Family Dentistry encourages you to explore orthodontic correction with Invisalign. You dentist will tell you if this innovative system can produce the smile you've always wanted. Contact the office today to arrange a consultation.