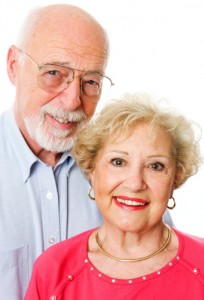 There are a lot of denture wearers in this country. Our elderly population contains the most denture patients, but there are other patients who aren't elderly who have to wear them. Dentures offer great support and dental aesthetics for people who have lost their teeth. However, denture wearers have been known to suffer the effects of facial imbalance, lost volume in the face, and other appearance problems. We don't want you to suffer any longer. At our office in Mt. Holly, NJ, Dr. Williams Greenberg is proud to offer this fantastic service for all of our denture wearers. This blog isn't meant to downplay the importance of dentures, because they are very important for patients with missing teeth. However, this will focus more on the effects dentures can have on a patient's face, and that is what we want to fix. Just because you have to wear dentures doesn't mean you have to suffer from the effects it can have on your face. Dr. Greenberg is the dentist Burlington County can trust.

Fountain of Youth Dentures™ Restore Your Face
So, missing teeth have caused you to need dentures. Hey, it happens. But as you probably know, the effects dentures can have on your facial appearance can be quite noticeable. With this exciting new method of making dentures, we can bring comfort and facial aesthetics back to your mouth. You'll look like a new person! When your teeth are lost, the jaw bones start to shrink. When this happens, the facial volume is lost in a major way. Your face can seem sunken and uncomfortable. By using neuromuscular techniques, you'll regain a youthful appearance.
Dentures do their job, and it's important to remember that. This isn't to dissuade any patients from receiving dentures treatment because it's necessary for some people. However, if you don't like the look of your face while you wear them, it can be fixed. It's a different type of smile makeover that can now make its way into the cosmetic dentistry category.
What makes this such a great alternative for denture wearers?
It gives you fuller lips
You'll notice less wrinkles
Your neck will look and feel tighter
Your chin will look stronger
If you wear dentures and want to restore your face to its youthful appearance of yesteryear, this is the service you want. Just think, you can wear dentures while looking young again!
Schedule a Consultation Today with 08060 Dentist Dr. Greenberg
If you live in and around the Mt. Holly, NJ area, you should come in for an appointment and meet with Dr. Greenberg one-on-one. He'll thoroughly inspect your present dental situation and decide whether this treatment is right for you. We welcome patients from all over, including Westampton, Hainesport, Lumberton, Springfield, Pemberton and beyond.