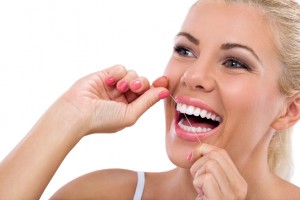 When you brush your teeth (twice a day, we hope), are you also flossing? If the answer is yes, good job! Keep doing what you're doing. If you aren't flossing, you're not doing your mouth any favors. Flossing is one of the most important steps in keeping a healthy mouth. It should always be a part of your daily dental hygiene regimen no matter what. When you wake up in the morning, does your mouth feel a little bit clean or did you bypass brushing and flossing the night before? If you did, does your mouth feel a lot nastier than normal? That's because all those tasty bits of food you enjoyed last night are now caught in between, on and around your teeth. Brushing helps remove most of it, but floss reaches those tiny spaces where said food particles and other bacteria love to hang out. The Mt. Holly Family Dentistry team is headed by the dentist Mr. Holly, NJ calls their own: Dr. William Greenberg.
Flossing can keep your teeth a lot cleaner than you think. Those tiny spaces can keep food particles trapped, and that's what causes some side effects including bad breath. It's time to stop punishing your oral health and give it the care it deserves. 
Ready, set, floss!

Why Is It Important to Floss?
Food is delicious before it goes into your mouth. Once it's in there moving around finally swallowed, it's no longer considered delicious. Hours-old foot particles end up lodged between several teeth and flossing is the only way to remove it and additional bacteria. Not choosing to do so can bring on some pretty terrible-smelling breath, as well as inviting diseases to spread.
There are many reasons why you should floss. Besides the obvious, flossing does the following:
Brushing and flossing can cover a lot more space and hit a lot more difficult areas than just brushing alone.
Flossing keeps your gums in tip-top shape
Flossing can save you cash by delaying or destroying any chances for diseases to develop
Other diseases are prevented by flossing
Tartar has nowhere to go
You see, flossing is one of the best preventive dentistry services because you're in total control. There's a good chance everyone is flossing differently, but as long as each tooth is getting the attention it deserves and the spaces in between are being thoroughly cleaned, your mouth should be in great shape. Dr. Greenberg is a dentist Burlington County can go to for general dentistry assistance.
Not sure How To Floss Correctly? Give Our Office a Call
Nobody is perfect, and that's especially true when it comes to flossing. If you need any help with proper flossing technique or other dental hygiene questions, don't hesitate to give our office a call. Dr. Greenberg is the family dentist Mt. Holly, NJ residents can trust to improve their oral health. We gladly welcome patients from all over, including Westampton, Timbuctoo, Lumberton, Springfield and beyond.