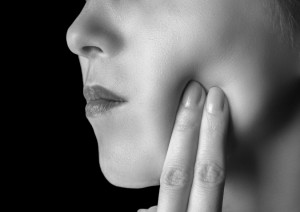 When a cup of hot soup or a refreshing summer popsicle leave you wincing in pain, we probably don't have to tell you you've got a problem with sensitive teeth. Your dentist in Mt Holly wants your teeth to be as healthy as possible, so read on for the list of what may be causing your sensitivity, and how you can prevent it from worsening!

The top five causes of sensitive teeth
Without further ado, we present the list of what could be causing your tooth troubles!
#1: Aggressive toothbrushing
There are a few places you want to be aggressive — on the basketball court, on the New Jersey turnpike… but your mouth is not one of them! If you're brushing too hard, you're also wearing down your tooth enamel, and that's a major factor for tooth sensitivity. Aggressive toothbrushing can also lead to gum recession, exposing your tooth roots to heat and cold. To avoid these problems, make sure you're brushing calmly, in gentle circles, using a soft bristled brush.
#2: Tooth erosion
Your sensitivity could also be brought on by excessive acid consumption. If you frequently eat or drink highly acidic foods and beverages, you're accelerating the erosion of your tooth enamel, exposing your teeth to painful sensitivity. Beer, sodas and highly salty foods are all things that you might want to consider cutting back on for healthier teeth.
#3: Tooth decay
If you're ignoring a spot of decay on your teeth, your mouth won't let you forget about it. Cavities and infection can cause significant sensitivity. That's your body's way of telling you something's wrong — so listen to it. Visiting your Mt Holly dentist to restore your tooth to its natural health will fix the sensitivity.
#4: Tooth grinding
If you're grinding your teeth at night, you're wearing down the enamel and, guess what? That's causing your sensitivity. See your dentist in Mt Holly as soon as you suspect you're grinding your teeth, and you'll be treated with a custom-fit, removable mouth guard to protect your teeth and jaw from the pressure at night.
#5: Recent dental work
If you've just had a dental procedure, like a filling, crown or teeth whitening treatment, your teeth will likely be sensitive for the first few days following the treatment. Don't worry — with a little patience, this sensitivity should subside soon. But don't hesitate to contact your dentist if discomfort persists.
Questions? Visit Mt Holly Family Dentistry!
If you've got questions regarding your tooth sensitivity, or if it's just been awhile since your last checkup and cleaning, don't hesitate to contact us to schedule an appointment! Our team is here to help you enjoy teeth that feel as great as they look.