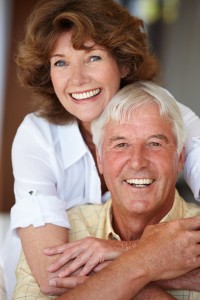 If you think dental implants and dentures are two completely separate things, we've got news for you: they're not. The two can actually function together to give you the strong, beautiful smile you've been dreaming of! Together, they're known as implant-supported dentures and, well, we bet you can see where this is going. Stick with us for just a little longer, and then contact Mt Holly Family Dentistry to schedule your appointment for tooth replacement in 2016!
Dental implants and dentures work together for better results
It's said that everything's better when we're working together. Well, it couldn't be more true with dental implants and dentures. In fact, implant-supported dentures are the best option for anyone missing several teeth, or an entire row from the top or bottom.
Now, how exactly does the partnership work? Let's take a closer look.
First come dental implants
When you decide that implant-supported dentures are the best solution for you and your smile, we'll assess your mouth to make sure you're an excellent candidate for the treatment. If enough jawbone structure is present, we'll refer you to a trusted oral surgeon to surgically place your implants. After the recovery period of approximately six months is complete, you'll come back to Mt Holly Dentistry — and then the fun begins.
Then comes the denture placement
As soon as your dental implants have fused with your jawbone, a process we call osseointegration, you're this close to enjoying your new, beautiful smile. When you come to our office for your follow-up appointment, we'll expose the top of your dental implant and attach an anchor which your denture will fit securely on top of — and you walk out of our office the proud owner of a complete smile!
Advantages of implant-supported dentures
When you choose to secure your denture with dental implants, you'll benefit from the significant advantages this treatment offers. Just a few of them include:
The ability to eat, speak and smile without worrying about an ill-fitting or loose denture

Continued oral health provided by the osseointegrated implant

A more youthful appearance without that sunken, missing-tooth look

Stress-free denture application, free from messy, over-the-counter adhesives
When it comes to the reasons you should choose implant-supported dentures, we could go on and on — but we think it's best you come into Mt Holly Family Dentistry to learn more for yourself. We'd love to discuss your options for tooth replacement with dental implants in 2016!