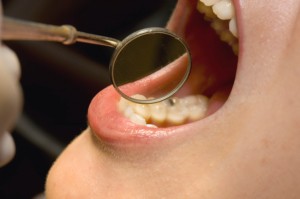 It's hard to keep your options in dentistry straight sometimes. But if you've got one or more unattractive or damaged teeth, it's time you learned what's what in tooth restoration. One common question our patients have is about the difference between dental crowns and veneers in Mt Holly NJ — so we decided to put the answer in one convenient spot, here on our blog. Keep reading to find out more from the Mt Holly team today!
All About Dental Crowns and Veneers in Mt Holly NJ
You've probably heard a lot about dental crowns and veneers. They're both wonderful solutions for damaged teeth — but the one you choose will depend on a few things, including the location and extent of your problem.
Dental Crowns Restore Function and Appearance
For front and back teeth that are broken, chipped, cracked or otherwise damaged, dental crowns can be an excellent restoration option. The thing to remember is that a dental crown can give you back the function and appearance of a natural tooth.
Some quick facts about dental crowns:
Require significant preparation of the natural tooth before placement

Encase the entire tooth

Strengthen teeth that are decayed or broken

Withstand pressure from chewing

Good for front and back teeth
Porcelain Veneers Enhance the Appearance of a Damaged Smile
While a dental crown can give your tooth back the strength it needs to chew with ease, porcelain veneers are good for cosmetic improvements in front teeth. For chipped, gapped, stained, discolored or another aesthetic issue is interfering with the appearance of your smile, porcelain veneers are a great option.
Some quick facts about porcelain veneers:
Good for front teeth, or those that show when you smile

Enhance the shape, color and overall appearance of teeth

Require minimal preparation, leaving more of the natural tooth intact

Placed on generally healthy teeth
Deciding Which Restoration Is Right for You
Schedule a consultation in Mt. Holly NJ to know for sure which tooth restoration is right for you. As a general guide, remember that dental crowns are good for restoring the function of the tooth, while porcelain veneers are excellent for enhancing the appearance of your smile. Just call our Mt Holly, NJ dental office to schedule your appointment today — and we'll help you decide from there.
Questions? Comments? General well wishes? As always, we love to hear from you and invite you to comment below!