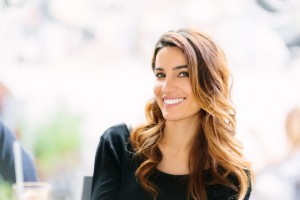 What changes did you resolve to make this New Year? To eat better, or read more? Studies show the number one resolution is to lose weight, but we've got a better idea for 2016. Let someone else take care of the transformation by visiting a cosmetic dentist in Mt Holly! Whether it's a quick procedure or something a little more transformative, smile improvements can make a big difference in your entire life. But how do you choose a good cosmetic dentist? We've got some tips to help you make the right decision for big time changes in 2016.
Choose the Cosmetic Dentist in Mt Holly That's Right for You
Studies have shown that adults with attractive teeth are considered more successful by their peers. It's true — by improving your self-confidence and overall outlook, dazzling smiles produce real life changes. Find the perfect cosmetic dentist and we know your whole life can to improve.
#1: A good cosmetic dentist offers a variety of services
You never know what your smile might benefit from most. Whether it's teeth whitening or a full smile makeover, you don't want your choices limited by your dentist's limited offerings. Check their website and make sure many services are offered — and that the dentist has plenty of experience performing each one.
#2: And handles other areas of dentistry, too
Of course, you also don't want to have to run all over town to meet all your smile's needs. Choose a cosmetic dentist who is also an expert in general, preventive, restorative and replacement dentistry to insure you can find everything you and your smile need under just one roof.
#3: Make sure they hear you
Not everyone wants a Hollywood smile. Make sure your cosmetic dentist listens to you — and truly hears what you want. If your dentist constantly seems too busy to chat with you, or if it's hard to get the chance to speak with him or her at all, keep looking for someone who really cares about you and your dental goals.
#4: Check their affiliations
A peek at the practice's website will tell you whether or not your cosmetic dentist is involved in professional organizations, which can indicate their interest in learning and improving throughout their career. The American Academy of Cosmetic Dentists is a good one to look out for, as well as affiliation with the Las Vegas Institute for Advanced Dental Studies, the top post-graduate training facility for cosmetic dentistry in the country.  
Check Out Mt Holly Family Dentistry Cosmetic Dentists
We're confident that your search for an excellent cosmetic will lead you to Mt Holly Family Dentistry. Our team has the experience and passion necessary to provide our community with true excellence in cosmetic dentistry. But don't take our word for it — call us to schedule your appointment to start 2016 off with a bang today!