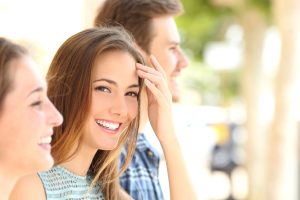 Do dingy stains spoil your smile? That yellowed look comes from what you put in your mouth. Drs. Greenberg, Govitrikar and Cygler offer at-home and in-office teeth whitening as part of their cosmetic dental services. Results are amazing, and you can maintain that dazzling look with some common sense care.
Tooth Color Changes over Time
Tooth enamel darkens over the years.  While it is a matrix of rock-hard minerals, enamel also contains organic materials which pick up and retain stains.
Discolored smiles usually appear yellow, although grey and shades of tan and brown appear as well.  While age thins enamel and uncovers yellow dentin, what you put in your mouth adds to that dingy difference in hue.
The Role of Food and Drinks
The dentists at Mt.Holly Family Dentistry tell patients to think carefully about what they eat. If consumed frequently, some food and beverages will change the color of tooth enamel. For example, these everyday menu selections darken or yellow enamel:
Blueberries, blackberries and strawberries
Soy sauce
Curry dishes
Apples
Red wine
Black tea
Coffee
Colas and root beer
Tomatoes
Sports drinks
In general, the darker or more acidic a food is, the greater the chance that dental staining will occur.
What Else Can Yellow Teeth?
Smoking and chewing tobacco yellow teeth by many shades. Some pharmaceuticals such as tetracycline and select antihistamines darken tooth color, along with radiation and other cancer treatments.
In addition, poor oral hygiene habits allow sticky plaque and hard tartar to build-up on tooth enamel, in interdental spaces and at the gum line. This organic matter encourages bad breath, tooth decay, gum disease and stained teeth.
What Can You Do?
People become so self-conscious about their discolored smiles they won't show their teeth in public. This tight-lipped expression changes how other perceive them and how they think about themselves, too. What can be done to prevent stains, and If you have your teeth professionally whitened, how can you keep that smile bright?
First, follow the American Dental Association's guidelines: brush twice daily, and floss once a day. Choose a fluoride toothpaste with whitening properties, and drink plenty of water daily to stimulate saliva and its beneficial enzymes.
Also, visit Mt. Holly Family Dentistry semi-annually for a check-up and professional cleaning. Your hygienist will remove biofilm that your toothbrush and floss miss.
Then, think about what you eat. Can you cut back on coffee? Could you up your intake of water? Enjoy soy sauce or curry, but rinse your mouth and brush as soon as possible after consumption. Don't eat darkly pigmented foods every day, but limit them.
Finally, quit tobacco. Yellow teeth are the least of the problems associated with smoking. Talk to your primary care physician about smoking cessation.
Professional Teeth Whitening
The team at Mt. Holly Family Dentistry offers both in-office and at-home teeth whitening. While not everyone is a candidate for this cosmetic procedure, people with healthy teeth and gums are.
At-home whitening uses professional strength hydrogen peroxide gel in custom-fitted trays. Worn for a prescribed time each day, the tray and gel system powers out stains gradually.
In-office whitening uses a more concentrated whitening gel. The dentist swabs it onto the teeth, taking care to protect lips and gums to reduce sensitivity. In about an hour, teeth are whiter by several shades. With touch-ups, good home hygiene and professional cleanings, teeth remain white indefinitely. The same precautions for preventing stains apply to keeping teeth bright after professional whitening.
Get that White Smile and Keep It
Eliminate the yellow with simple strategies and professional teeth whitening.  For a cosmetic dentistry consultation, contact Mt. Holly Family Dentistry.